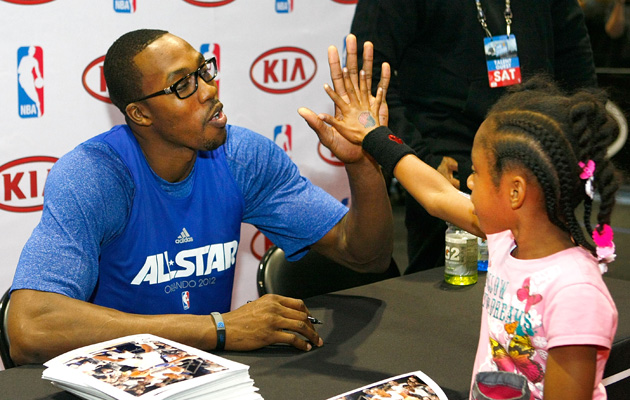 Dwight Howard faces the most uncertain trade deadline of his career.
(Getty Images)
By Matt Moore
The winds are filled with whispers and disinformation. Fans are rattling trade machines and scouring salary lists. And most of the players in the league have a heightened anxiety while telling everyone they're oblivious to what's going on.
It's trade season.
With the deadline a week away, talks are ramping up, and while this is the most difficult trade deadline in years to predict in the way of volume of deals, the chatter is going to be the same as ever. Teams are at the point in the season where it's time to either head in a different direction, try and get over the hump, move towards the future, add that final piece, blow the whole thing up, or try and stay the course.
Some teams are above the fray. The rest will be on the phone. And some desperately need to get a deal done in the next seven days. With that, we present the Deadline Urgent Care Report, for teams that need to make a move now. It's time to trade or get off the block.
1. Orlando Magic:
There's so much going on with this situation that no one really wants to talk about. It gets boiled down to a handful of narratives. "You have to rebuild if you're going to lose
Dwight Howard
." "You don't trade Dwight Howard until you absolutely have to." "You can't make decisions based on emotions." "Who really wants to rebuild around
Brook Lopez
?"
There's so much more going on. The health of their owner. Dwight's complex relationship with the city, with ownership, with Otis Smith, with Stan Van Gundy. To be sure, there's an impression given that Howard thinks he's beyond all of them at this stage in his career. But there's part of him that knows Smith took a chance on him. He knows Stan Van Gundy helped make him into the Defensive Player of the Year that he is. He knows Orlando has embraced him. This isn't an easy scenario in back and white lines.
But the reality remains. The Magic have to trade Howard if he is unable to give them a solid indication he wants to stay. Yes, Cleveland has rebuilt well without trading
LeBron James
. But it's less about what you get in return than it is about clearing space. Letting Howard go in free agency means you have a terrible team that's expensive. Trading him means the possibility of moving
Hedo Turkoglu
,
Jason Richardson
, or
Glen Davis
to alleviate the contract situation.
The Magic need to be looking to the future, trying to pull in as many young viable could-be-stars as possible, not bringing in veterans with large contracts or injury issues. They need to scrap it and start over. It's the quickest and most logical way back to title contention. Currently the odds are a pick 'em for if they'll trade him or not. At some point, despite how complicated the situation is, you have to move forward. Otherwise you're not saving yourself, you're just waiting to die.
Targets:
Distributing wing creator, point guard upgrade.
Movable assets:
Dwight Howard, Jason Richardson, Hedo Turkoglu,
J.J. Redick
,
Jameer Nelson

2. Los Angeles Lakers
: It's pretty simple stuff, really. This team, as constructed, will most likey win a title. They can, but they probably will not. And that is not how the Los Angeles Lakers operate. They have movable stars, are willing to take on salary, and are in need of a face-saving move to try and redeem the decisions of the front office.
The trick for the Lakers is determining trade value.
Pau Gasol
was thought of as the best big man in basketball a year and a half ago. Now, he's a sidekick delicate shooter who fell apart in the playoffs.
Andrew Bynum
was a project with upside who you could still rationalize moving for something less than elite return. Now he's an All-Star who finally looks healthy. Do you see the problem? Gasol is better than his current value will allow in return and Bynum's current value is so high as to make it difficult to net equal return.
Furthermore, they need a star to put next to
Kobe Bryant
. Dwight Howard is there, but that situation has been temperamental. And it doesn't address their issues. A trade for Howard means they still have weaknesses at point guard and small forward. If the Lakers are going to do a deal, they need to pull in other teams to get some auxiliary talent back.
Targets:
Dominant superstar option B, point guard upgrade, small forward who can hit water falling out of a boat.
Movable assets:
Pau Gasol, Andrew Bynum (?),
Metta World Peace
,
Steve Blake
,
Matt Barnes
.

3. Boston Celtics:
It's. Over.
The run was good. It wasn't great, just one championship, two Finals, and for a collection of Hall of Famers, it's disappointing. But the reality remains, it's time for Boston to move on. Every indication is that Danny Ainge isn't looking to try and win a title this year through trade. He's aiming for down the line. The idea is to be in a position to make a big move should one come available, not try an force one with the older players currently on roster.
And still, a change is needed. They can definitely re-stock in free agency when
Ray Allen
and
Kevin Garnett
's deals come off the books. But considering the value of both players, it would make sense to shop either or both in an attempt to get something of value now. Again, the idea is not to find players to win a title now, since they're not in that position. But to get players that will have value later to then move for those big pieces.
And then there's Rondo.
The enigmatic, temperamental shrouded in mystery and a faint air of disgust who drops triple-doubles to boggle the mind continues to be at the center of the Celtics' uncertainty. The Celtics took to the offensive last week to shoot down rumors they were looking at moving Rondo. But he's been discussed as a potential trade target for far longer than the past two weeks. Rondo has trouble scoring efficiently. He also possesses arguably the best vision of any point guard in the league, including
Chris Paul
. Can you build around him? Is his success a product of playing with three Hall of Famers? Is he limited by the Celtics' pace and lack of speed? The questions about Rondo have implications beyond whether to trade him or not. They also deal with how to build a team around him going forward if they don't trade him.
Targets:
Versatile wings, on-ball creators, anything resembling a legitimate center.
Movable assets:
Kevin Garnett, Ray Allen,
Paul Pierce
(?),
Chris Wilcox
,
Avery Bradley
,
Brandon Bass
,
Jermaine O'Neal
(expiring contract).

4. Atlanta Hawks:
Josh Smith
still wants out. The roster is stale.
Marvin Williams
is movable, finally.
Jeff Teague
makes
Kirk Hinrich
expendable. There's every reason for the Hawks to be big players at the deadline, but as always, their ownership situation makes things complicated. Still, the Hawks have repeatedly made moves at the deadline over the years and Smith should get a high amount of offers.
Targets:
Clearing salary, legitimate center, back-up scoring guard.
Movable assets:
Josh Smith, Kirk Hinrich,
Joe Johnson
.

5. Golden State Warriors:
The Warriors' new ownership has made big noise about change and bringing in stars, changing the culture. Instead they're largely the same team they have been for the past few years. They want to make a big splash. They have all the components to do so, it just matters how desperate they are. Expiring contracts, young stars on good contracts, versatility and depth. They have everything but a good roster. Fixing it will take more than a quick fix, but if they want to make a splash, the time is now.
Targets:
Legitimate star, legitimate center, defensive backcourt and frontcourt upgrades.
Movable assets:
Literally every player on roster.

6. Milwaukee Bucks:
Stephen Jackson
has a huge contract, a bad attitude and a declining skill set. So clearly the market should be strong for him. The Bucks have wandered into no-man's land, not bad enough to land a star in the lottery, not good enough to make progress. But how do you remake a roster like this with a very specific outline for a blueprint? Brandon Jenning is the franchise player... is that a good thing? If
Andrew Bogut
can stay healthy they're a force... can he? They have depth that plays exceptionally well, is it worth selling high on them? It's a complex situation in Milwaukee.
Targets: Scoring, versatility, multi-dimensional impact.
Movable assets:
Luc Richard Mbah a Moute
,
Ersan Ilyasova
,
Drew Gooden
,
Brandon Jennings
(?), Andrew Bogut (?), Stephen Jackson.

7. New Jersey Nets:
They can wait on Dwight. But that's the kind of gamble that puts the fear of God in you. It's like telling your spouse, "Don't worry, honey. I've lost our car, our couch, our refrigerator, our bed and our life savings the last five times I've tried this gamble, but this time it's going to be different!" Nets supporters often point out that Billy King has made a number of four and five team trades. What they do not mention is how seldom his teams have gotten the better end of those deals. Not that his teams come out worse. But it's not like we're dealing with a stellar record.
The Nets have young players, but they're not very good. It's unlikely they'll panic should Howard stay put in Orlando, but it's going to make them break out the scotch. Expect their phone lines to be busy for the next week.
Targets:
Dwight Howard. Pieces necessary to get Dwight Howard.
Movable assets:
Anyone but
Deron Williams
.

8. Houston Rockets:
The Rockets are where they always are. Trying to get a star and building up assets to get a star they can never seem to land which makes them build up more assets to try and get a star. It's like an M.C. Escher painting.
Targets:
Superstar to build around, low-post scorer.
Movable assets:
Anyone for the right price.