Los Angeles Lakers coach Phil Jackson agrees with his girlfriend, Jeanie Buss, on the idea of NBA contraction. Posted by Ben Golliver.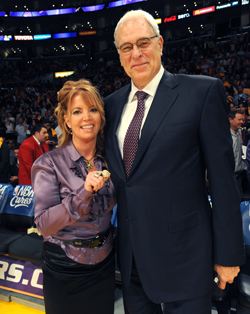 Back on Thursday,
we noted a report
that Los Angeles Lakers executive vice president for busineses affairs Jeanie Buss said that she believed the NBA needed to consider contraction, eliminating a few lesser-profitable teams so that the league as a whole would be in better financial shape.
Asked by ESPNLA.com
for his reaction to the comments, Lakers coach and Buss' boyfriend Phil Jackson first blamed NBA commissioner David Stern for the idea and then took it a step further, suggesting that reducing the NBA from 30 teams to 24 teams sounded good to him.
"I think that's what the commissioner said so I think she's probably parroting what the commissioner said," Jackson said. When asked for his thoughts about contraction, Jackson said, "I will parrot what both of them said" before expanding on the thought.
"I think [the league has] some parameters that they want to meet in some of the markets," Jackson said. "I think they'll set up some goals that way and I think that will be a helpful thing for the league. Taking New Orleans for example, they had to meet a certain number of ticket holders for them to come in the league, so there are some parameters that are important."

"You like to have six in the division and 24 is really a great number [of teams] at one time," Jackson said.
As we noted back on Thursday, these comments from a big-market, high-profile league mainstay are like fingernails on a chalkboard for small-market teams and their employees heading into the labor talks. While contraction is a direct threat to the players' position as it represents a loss of roster spots and jobs, hundreds of other team employees would be looking at job losses as well. In that light, contraction talk is not just owners vs. players, it's rich owners vs. poor owners.
When push comes to shove, it's unlikely that a majority of NBA owners would support contracting some of their brethren, especially given the ever-present alternatives of relocation and/or new foreign ownership. In the meantime, though, contraction becomes a huge elephant in the room when the owners meet to negotiate with the players, because the owners aren't presenting a unified stance on such a key issue.