Posted by Ben Golliver.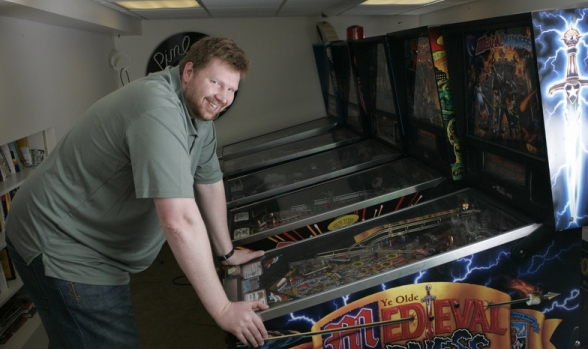 As an NBA player, Todd MacCulloch's high score was 29 points. In his new line of "work" that number is surely considerably higher. Somewhere in the millions, probably.
MacCulloch, a Canadian who played four seasons at center for the Philadelphia
76ers
and New Jersey
Nets
, has taken up professional pinball in the years since his retirement from the NBA.
The Pittsburgh Post-Gazette reports
that MacCulloch is one of more than 400 participants competing for the World Pinball Championships title near Pittsburgh this week.
When standing over a pinball machine, Todd MacCulloch, who is 7 feet tall, cuts a striking figure. As he approached the 10 machines in the B division bank Wednesday afternoon, several of his fellow competitors did double-takes.

Mr. MacCulloch, 35, retired from the Philadelphia 76ers of the National Basketball Association eight years ago for medical reasons and resettled in Bainbridge Island, Wash. He's now a full-time father to his two children and a part-time competitor on the professional pinball circuit.

"I always loved pinball growing up," he said as he sat near the front entrance, collecting nods and greetings from competitors he has encountered on the circuit before. "Now that I can't compete [in the NBA], pinball has filled that void of camaraderie."
According to his PinballRankings.com profile, MacCulloch is currently the No. 193 player in the world and has already competed in at least five tournaments this year.

MacCulloch averaged 6.1 points and 4.0 rebounds in his four-year NBA career, which ended in 2002-2003.
Basketball-Reference.com reports
that MacCulloch netted more than $27 million in NBA earnings.
A recent Washington Post story
noted that his pinball earnings, as of December 2008, totaled $700.
Tilt!
Image credit: Getty Images via The Dagger.