Posted by
Ben Golliver.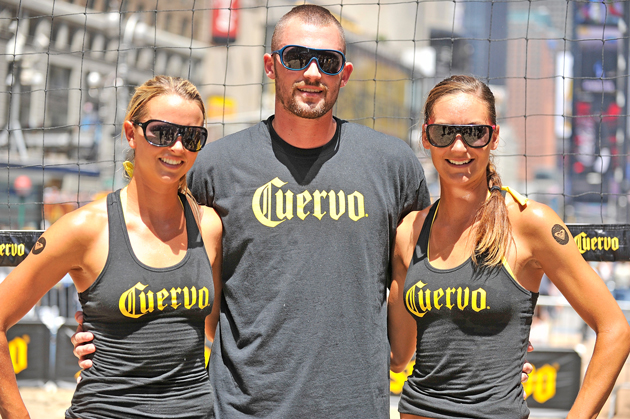 Who knew the best way to lose weight was to subsist solely on a diet of Cuervo Girl sandwiches? Take that, Subway Jared.
Minnesota
Timberwolves
All-Star forward
Kevin Love
writes on Grantland.com
that he was able to drop more than 20 pounds from his
listed weight
of 260 this offseason.
Professionally, the time provided me with an opportunity to rest and methodically work my way up to a healthy state. I worked slowly and built up my stamina and strength through yoga, strength training, and cardiovascular conditioning … I feel better than I ever have. For the first time since my freshman year in high school (2003-04) I weigh under 240 pounds, and my strength has consistently gone up. First, I took my time building back up, and treated the latter part of April and the whole month of May as a recovery period from the 10 straight months of basketball. Not that I am the only one who plays this much throughout the course of a year; I know that many players do this, and some even take their teams deep into the postseason year in and year out. This year, for example, some of the players from the World Championships moved deep into the playoffs and their teams saw immense success. While I pay those individuals much respect, knowing the NBA could head into a long and drawn out offseason gave me peace of mind that I could rest my body and mind to prepare for the next step in my career.
The obvious question here: How will the self-reported lost weight and increased strength change his game?
Will it help his offensive versatility and defensive mobility? Will it allow him to continue to develop his three-point shooting game? Will it make him better able to guard the league's combo forwards? Will it make him an ideal trail man on the fast break?
The quick-trigger answer: We might not ever know for sure.
Love put up 20.2 points and a league-leading 15.2 rebounds per game in 2010-2011 but he played for a Timberwolves squad that was a total statistical anomaly. Under former coach Kurt Rambis, Minnesota
played at the league's fastest pace
but was a bottom-7 offensive team and was a bottom-4 defense in terms of effiency. They were way below average in effective field goal percentage and true shooting percentage, dead last in assist rate and dead last in turnover rate. Next season will bring a new coach, Rick Adelman, and a new point guard,
Ricky Rubio
, into the fold. It will also see the addition of rookie forward
Derrick Williams
, a potentially explosive offensive force, to the team's frontcourt.
All told, that's a lot of major variables before we even get to Love's physical specs. Whether or not his game changes as much as his body has, it's a safe bet that Love's number will look different -- perhaps quite different -- next season.
Hat tip: SI.com and TwinCities.com