Miami Heat forward LeBron James says Game 5 of the 2011 NBA Finals is the biggest game of his life. Posted by Ben Golliver.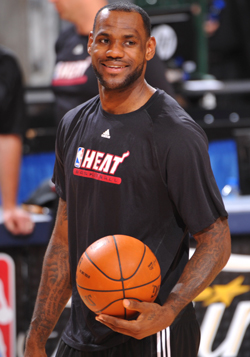 DALLAS – With the 2011 NBA Finals tied at two games apiece, control of the series is at stake during Game 5 on Thursday night. It goes without saying that Miami Heat forward LeBron James has a lot riding on his performance following a disappointing disappearing act in Game 4.
A superstar at the center of the NBA's media universe, James regularly pushes back on the media's overhyping and overanalyzing his every move. On Thursday morning following shootaround, however, James was unusually happy to set his personal stakes at the highest possible level.
"It's a big game, probably the biggest game of my life," James said, before stopping to immediately correct himself. "Not probably. It is."
Compared to his sullen, distant post-game demeanor on Tuesday night, James was relatively loose as he joked with reporters, although he admitted that his mind has been consumed by his 8 points, 9 rebounds, 7 assists, 4 turnovers performance on Tuesday.
On Wednesday night, James said he tried to get away.
"Try to do whatever it takes to help your mind shut down," James said. "You just try to stay up and watch TV. There's never anything on TV. I don't know. Get on the Internet. Read you guys' columns. Those are fun."
That crack drew belly laughs from the assembled media given the intensity of the criticism of James online.
"I've seen a lot of them," James added with a wry smile. "They're pretty good. I appreciate it."
The media isn't alone in questioning James in the aftermath of the worst playoff game of his ccareer. The Mavericks have been supplying a steady diet of quotes and jabs as well.

Asked again about comments made by Mavericks guard DeShawn Stevenson, who said on Wednesday that James "checked out," James dodged the issue a bit, but did subtly promise some revenge.
"He has the right to say what he wants to say," James said. "Just know I'll be there for 45 minutes on the court tonight. We'll see what happens."

Heat forward Chris Bosh confirmed that James "absolutely" hears the criticism. "We hear everything," Bosh said. "We use all of that stuff for motivation. I doubt if anybody will be tired tonight because of that."

Heat guard Dwyane Wade actually thanked the Mavericks for prodding James. "He doesn't need it but it adds fuel to the fire," Wade said. "We appreciate Dallas for that. Even if he had lost focus, he was going to get it back, but we appreciate the words that are coming out of their mouths."

More than the questions and concerns from his critics on the Mavericks and the doubters in the media, James is clearly feeling pressure from within. On Wednesday night, he tweeted, "Now or Never!!"
"That's just how I was feeling at the time," James explained. "A personal message to myself. It's nothing to do with anyone else besides myself. Just in a zone at that point."
He has no plans to change his approach late in games, where his scoring numbers have taken a major hit against the Mavericks.
"Just do my thing," James said. "There's times when you make shots and you don't make shots. I will be on the court in the fourth quarter like I always am."

Heat coach Erik Spoelstra again expressed confidence in James on Thursday morning.

"He knows what to do," Spoelstra said. "I don't want him to overthink it. He's a great player. He knows how to be aggressive, and pick his spots in what we do. It has to be a collective effort tonight."
Bosh said James doesn't need any major adjustments. "Just give him the gameplan, maybe a little bit of a motivation speech," Bosh said. "But other than that, he doesn't need to hear anything. He just needs to get this game started."
If James isn't contemplating specific changes – other than being more assertive with the ball in his hands – he is using recent history to help keep him focused.
"I've bounced back before," he said. "I just remember some of the games that I felt like I could play better. I know what I did the next time. I'm a big believer in my abilities. I watch film, I study film, I see the things I could have done better. And I've been able to bounce back after that game."
James pointed specifically to bounce back games in the Eastern Conference semifinals against the Boston Celtics and the Eastern Conference finals against the Chicago Bulls.
"I've had a few subpar games this postseason," James admitted. "One in Chicago, one in Boston, just try to bounce back the next game, understand what's at stake, understand what I need to do to help our team win."
In a Game 1 loss to Chicago, James had 15 points, 6 rebounds and 6 assists. In Game 2, he put up 29 points, 10 rebounds and 5 assists to lead Miami to a win. In a Game 3 loss to Boston, James had 15 points, 7 rebounds and 4 assists. He came back in a Game 4 win with 35 points, 14 rebounds and 3 assists.
James disregarded talk that this game could define his legacy – saying that he has heard that before in each of the last few seasons – but it is inarguable that he's treating this game differently.
"This is what it's about. This is what we all dream about being in this moment," James said. "It's there. We're looking forward to it, it's there. That's what I've been dreaming about my whole life."
Will Game 5 wind up fulfilling that dream? Or will it be another nightmare like Game 4?