The Atlanta Hawks have reportedly agreed to terms with Al Horford on a 5-year contract extension. Posted by Ben Golliver.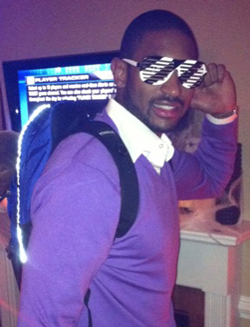 Michael Cunningham of the Atlanta Journal-Constitution
reports on Twitter
that the Atlanta "Hawks and Al Horford agree to terms on 5 year $60 million contract extension. Incentives still to be negotiated." Marc Spears of Yahoo! Sports
confirms the contract details on Twitter
. Horford, 24 years of age and currently in his fourth year with the Hawks after attending the University of Florida, has established himself as a solid, talented young big man in the NBA. Taken with the No. 3 overall pick in the 2007 draft, behind
Greg Oden
and
Kevin Durant
, Horford has averaged right at nine rebounds per game during all three of his NBA seasons. He's also increased his scoring average from 10 points to 11.5 points to 14.2 points during those three years. The reported contract is similar in size to one signed earlier this fall by Horford's former teammate at Florida,
Joakim Noah
, who agreed with the Chicago
Bulls
on a
5-year, $60 million deal
. Two comparable deals from last year: No. 2 overall pick in the 2006 draft,
LaMarcus Aldridge
(
$5 years, $65 million
) and No. 1 overall pick in the 2006 draft,
Andrea Bargnani
(
$5 years, $50 million
).
Ken Berger of CBSSports.com reports
that Noah's deal may have influenced Atlanta's decision to extend Horford.
Horford joins only Kevin Durant and Joakim Noah among high-profile 2007 draft picks who will be getting extensions. Horford's deal marks a philosophical shift for Hawks GM Rick Sund, who has almost without exception declined to do such extensions in the past. Given uncertainty over a new collective bargaining agreement, few teams are extending their 2007 picks before the deadline. Sources say the Hawks' hand was forced by the Bulls' decision to give Noah a five-year, $60 million extension.
Given that Horford has yet to enter his prime, has averaged nearly a double-double for three straight seasons and has missed only 17 games in three years, the deal represents great value for the Hawks. They certainly won't be panned by the critics for this one, like they were after re-signing Joe Jonson to a
6-year, $119 million extension this summer
.
Update
: The Hawks have officially announced the deal in a press release to the media. Some quotes and notes from the release are excerpted below.
"From the moment he arrived in Atlanta, Al has been a large part of our success," said Hawks GM Rick Sund. "The winning tradition he brought to the franchise as a rookie out of Florida has extended to three consecutive playoff seasons in a Hawks uniform. In addition, he was deservedly recognized as an All-Star last year, and we certainly look forward to his continued development as we move forward." Eighth in the NBA in field goal percentage, Horford was also among the league's leaders in rebounding (10th), offensive rebounding (tied for ninth) and blocks (26th). He recorded a team-leading 39 double-doubles (11th in the NBA) and posted 12 20-point games and a career-high 31 on February 7 at the Los Angeles Clippers. Having reached the postseason in every one of his three seasons, he has averaged 11.5 points and 8.3 rebounds in 27 games, with a 20/10 performance in his playoff debut (the first Hawk to do so) – 20 points and 10 boards against the Boston Celtics.