The agent for Ramon Sessions doesn't think there's enough room for his client if the Cleveland Cavaliers draft Kyrie Irving. Posted by Ben Golliver.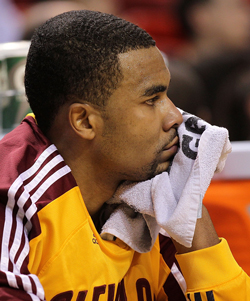 We all saw this one coming a mile away.
As soon as the Cleveland Cavaliers won the 2011 NBA Draft Lottery, and thus the rights to select Duke University point guard Kyrie Irving, they immediately acquired a log jam at the point guard position.
Why? Because the Cavaliers already have
Baron Davis
-- recently acquired from the Los Angeles
Clippers
in a trade for
Mo Williams
-- and Ramon Sessions as incumbents.
With the drafts still weeks away,
Ohio.com reports
that Chubby Wells, the agent for Ramon Sessions, is already making noise that there's not enough minutes for all three players.
Sessions would seem to be the odd man out, with Irving as the point guard of the future and Baron Davis on hand to groom him as such. Sessions averaged 13.3 points and 5.2 assists last season, his first in Cleveland. Now 25 and a four-year veteran, Sessions believes he can start in this league. That doesn't appear likely to happen in Cleveland.

Sessions' agent, Chubby Wells, hasn't asked the Cavaliers for a trade yet. That might change after the draft.

''Obviously something has to give,'' Wells said. ''I don't see how they can keep all three of those guys.''
The best case scenario would be to find a way to off-load Davis, who is owed more than $28 million over the next two seasons. That would allow the Cavaliers to turn the keys over to Irving on day one, with Sessions in place as an affordable, quality back-up point guard capable of playing as many minutes as needed.
Star point guards that have taken the reins early get the reps they need to truly succeed.
Russell Westbrook
and
Derrick Rose
are two obvious recent examples. While Irving might not have the ceiling of either player, he's good enough as a prospect and smart enough as a player to be thrown to the wolves immediately so that he can learn on the job.
As for Sessions and his agent, they're not saying anything the entire league hasn't assumed already. It will be difficult for the Cavaliers to keep all three point guards on their roster for very long, considering the combined money that will be paid to them and the number of other holes the team needs to fill.
If you needed another good reason to keep your eye on Cleveland -- who owns both the No. 1 and the No. 4 pick in this draft -- as the most likely team to wheel and deal this draft season, you've got it now.