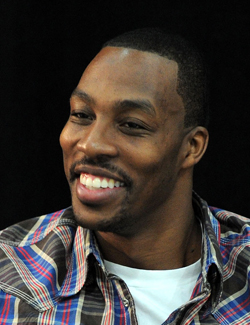 Posted by Royce Young
I don't know if you know this, but
Dwight Howard
is going to be a free agent in the summer of 2012. True story. And you might not think so, but it's going to be kind of a big deal.
There's already pretty much a new report, some new speculation or a new rumor every couple days about who Howard likes, who he doesn't, what he wants or where he wants to live. It's not quite a frenzy yet, but you can be sure it'll get there.
The good news is, we've already been through this rodeo once.
LeBron James
' free agency in the summer of 2010 is about as good a peek into how crazy the whole NBA recruitment process can be. Howard's extravaganza won't touch LeBron's for a lot of reasons, one of them being because Howard's not going to let it.
Via Sports Radio Interviews
, Howard was asked if LeBron's process and "The Decision" provided a blueprint on how not to do things:
"I think so. I think the way he did just seems like it just made people seem he ditched the whole town of Cleveland. I don't think he meant it like that, but that's how it came off and it hurt a lot of people. I actually talked to a lot of people in Cleveland who were just hurt by how he did it, so I think that was the biggest thing. He did everything he could in Cleveland. I think he felt like he just had to move on."
Awareness, it's a good thing, Dwight. The fact that people have learned from LeBron's fateful night in a plaid button-up is a good thing.
Kevin Durant
said once that process and attention intrigued him to wonder what it would be like, but like Howard, acknowledged that it's probably not the best way to do things. LeBron's decision had good intentions and definitely made for great TV. We were all watching, which was the point. But he alienated fans that love(d) him and ticked off a lot of others. Howard, who's one of the most likable personalities in the league, definitely wants to avoid anything like that.
Just in watching it, Howard said, that he could immediately see the issues. He said he could see it in LeBron that the whole process had really worn on him.
"I watched it live. I could tell he [LeBron James] was hurt before he even made his decision known to everybody. He was very hurt and it just looked like he really didn't want to get up there and do what he was doing. He had to make the best decision for him and his career and to just see all the stuff that happened after he made his decision. I think that's the thing that hurt Cleveland fans the most is the way he did it. I think that's what hurts them the most."
I think anyone with a brain understands that LeBron wasn't intentionally trying to make everyone hate him. And maybe he did sense it was a bad idea at one point. That's all been beaten to death, but with Howard being the prize of 2012 and a player near the level of LeBron in terms of how hard teams are going to try and woo him, the fact he understands what didn't work is certainly good. At least for him and his brand. Because in the end, that's what these guys are trying to protect.
There will be no Howard "Decision," no one-hour special, no attention grab. At least that's the plan right now.