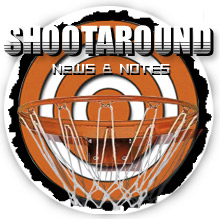 Posted by Royce Young
Ira Winderman of the South Florida Sun-Sentinel: "The Heat knew going in that LeBron James would be high maintenance. Superstars almost always are. But pair that with a young, intellectual sideline purist and you have what you have right now, a leadership void that allows the ancillary to dominate. So reports emerge from within the locker about unease with the sideline guidance, with the same coach who first found a way to get two rotation rookies to the No. 5 playoff seed in 2009 and then a cap-conscious team to that same seed a year ago. And to the coach's aid steps ... Not a word from Pat Riley, even though a source close to Riley and his family insist that the last thing Riley wants to do right now is return to the sideline."
Brian Schmitz of the Orlando Sentinel: "Unless --- knock on wood --- he is felled by a catastrophic injury, Dwight Howard is destined to join basketball's hall of fame. 'He's a sure-fire hall of famer' if he remains on course, agrees Magic coach Stan Van Gundy of his 24-year-old center. Oddly, 16 games into Dwight's seventh season, that heady forecast is more sure-fire than Howard ever being awarded MVP."
And on cue, Stan Van Gundy says Howard doesn't get fair treatment in the media : "Maybe it's a size thing. Maybe people are harder on that. But he's a guy who clearly is the best guy in the league at his position, and has been. He's still very young, he's improving, he's won, he's a damn good person. I don't understand why there are so many negatives on him in comparison to the other guys. I've always felt since I've been here that he's taken more of a hit than the other people."
Stephen Jackson was ejected again a few days ago but his coach says he doesn't think Jackson ever change: "I don't know how things are going to change. I understand from his perspective what's going on, but that's the way it is: As hard as it is for a player to understand that, you've got to play through (emotion). You're too important to our team. We need you on the court."
John Rohde of The Oklahoman: "The novelty of Oklahoma City serving as the New Orleans Hornets' temporary home from 2005-07 seems to have all but disappeared. Crowd reaction during pre-game introductions drew only polite applause for Chris Paul and David West. Monday would have qualified as one of the most lethargic crowds in Thunder history, but the eighth sellout (18,203) gathering of the season finally came to life with 4:17 left in the third quarter when Jeff Green sprinted down court and blocked Paul's wide-open layup attempt."
Hornets24/7 on last night's loss to OKC: "Dear Coach Williams, West is moderately efficient as a scorer, but he is not brilliant. Paul is a brilliant scorer and distributor. Crunch time should be Chris Paul time, not David West time. Actually, let me change that. It can be David West time, but ONLY when he's shooting after Chris Paul has broken down the defense. The ball needs to start in Paul's hands. It can end wherever, but Paul needs to be creating the shot. Thanks. Great job so far, by the way."