Sources reportedly dispute a trade rumor involving the Washington Wizards and Minnesota Timberwolves. Posted by Ben Golliver.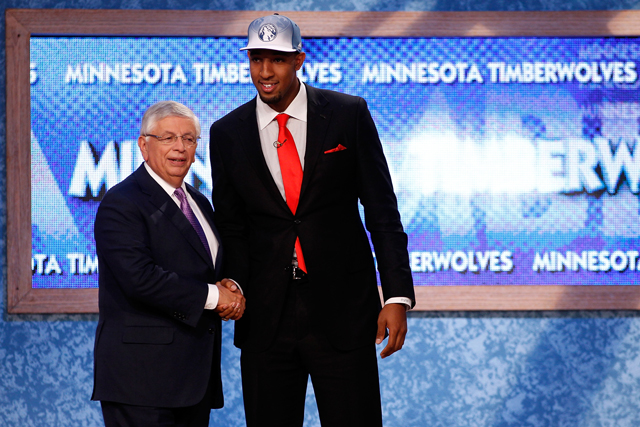 On Thursday, a report surfaced
that said the Phoenix
Suns
and Washington Wizards were among the teams most aggressively seeking the No. 2 pick in the 2011 NBA Draft, which belongs to the Minnesota Timberwolves. Minnesota was said to be looking for a "veteran big man" in exchange for the rights to draft University of Arizona forward Derrick Williams.
At the time, we noted that the Suns had better options to fit that bill than do the Wizards.
On Sunday, the Washington Post reported that Washington and Minnesota have not yet discussed a trade involving the No. 2 pick.
Draft Express' Jonathan Givony reported on his Twitter account on Thursday that the Wizards and Phoenix Suns are working hardest to move up get Williams, but one source with knowledge of the situation said "there's not" any truth to the speculation, while another with knowledge of the Timberwolves' plans said that the Wizards have yet to contact Minnesota about making a deal.

The Wizards have the sixth pick in the draft and President Ernie Grunfeld has already stated that the team is willing to "see what other opportunities come up." But they likely don't have the talented veteran pieces that it would take to get the No. 2 pick.
Draft rumors are tricky business. It can be very difficult to sift through the noise to find legitimate rumors. One thing is for sure, though: Every rumor, whether there is merit or not, is going to be met with denial by team sources this far before the draft. It's in every team's best interest, publicly, to have a blank slate when it comes to draft strategy and the wheeling and dealing that goes with it.
In other words, while you probably shouldn't put too much stock into any specific rumor, you shouldn't put any stock into a specific denial.
In this case, as mentioned previously, the Wizards aren't likely to part with their only big man that's good enough to be worth trading for: center
JaVale McGee
. If he's not on the table and the Timberwolves are looking for bigs, the two teams really don't have much to discuss.