Boston Celtics power forward Kevin Garnett mixed it up again and, this time, his opponent took exception. Posted by Ben Golliver.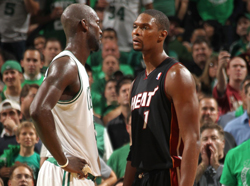 On Monday, I did the unusual: I applauded Los Angeles
Lakers
coach Phil Jackson for
flapping his gums
, as he called out Boston Celtics power forward Kevin Garnett for his recent shenanigans. I went on to wish that there were more NBA folks willing to stand up to Garnett's tired bullying routine. Last than 24 hours later: we've found two volunteers! A player and a long-time beat writer.
During Monday night's game between the Celtics and the Charlotte
Bobcats
, Garnett elbowed veteran Bobcats big man
Eduardo Najera
in the face. Najera's response,
according to the Charlotte Observer
, was a little bit of face-to-face smack talk.
Celtics provocateur Kevin Garnett elbowed Bobcats forward Eddie Najera in the face late in this one. They went nose-to-nose. How did Najera respond? "I just told him he hits like my grandma,'' Najera recalled postgame.
In a follow-up piece,
Rick Bonnell of the Charlotte Observer
blasted off on Garnett, applauding Najera for standing up to Garnett and for speaking his mind after the game.
Garnett is a fraud. I'm not saying he isn't a great player. I'm saying he only picks on people he thinks are weak. Call his bluff, and he backs off in this really wormy way. Najera, who would be the first to say he's way beyond his prime, stood up to Garnett's B.S. Monday. When Garnett elbowed him in the mouth, Najera reminded him he's no more tough than Najera's grandma. That's classic. I'd heard for years that Garnett is a phony, the bully who doesn't know what to do when he's called out. Good for Najera.
A grandma
and
a fraud in one night! This, my friends, is progress, another step in the sorely needed, league-wide Calling Out Kevin Garnett movement. I'm all for it. Maybe after a dozen or two more incidents, commisssioner David Stern will
finally deem it necessary
to flex his considerable muscle.