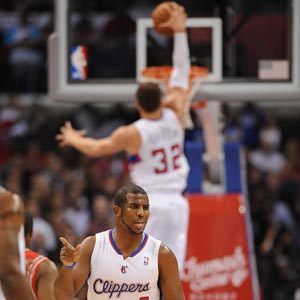 By Matt Moore
This was all too predictable. Stars these days never let the razzle dazzle hang around. Unless they're the
Heat
. And then they're hated.
When
Blake Griffin
was recorded saying "Lob City!" when he found out the
Clippers
had acquired
Chris Paul
, he had no idea what it would create. It's an easy, catchy phrase with a little bit of... pardon the phrase, swag, and that's going to catch fire. And it did. And now he hates it. And Paul does, too.
From ESPN L.A. :
"It's unfortunate," Griffin said. "It's one of those things where we understand it, but that's not what we're about. Before the game we're not going out thinking, 'All right, its Lob City tonight.' We're just trying to win games and trying to get better."

It was Griffin who famously coined the phrase when a camera crew caught him uttering the nickname as he chest-bumped Jordan after he heard the news Paul would be traded to the Clippers. He now wishes he would have never said it.

"If anybody says it in [the locker room], it's just a joke, making fun of the whole thing," Griffin said. "It's not on our minds at all."

"We're improving because we're communicating better," Paul said Wednesday after the Clippers dispatched the Rockets . "We're trusting each other."

Simply uttering the word "lob" draws an immediate roll of the eyes from Paul, who will usually switch the topic to half-court offense, tight defense or any other aspect of the game.

"It's something we can't control," Paul said. "We are a complete team, and we want to continue to be a complete team. That's the only way we're going to win games. It doesn't matter if you get 10 lobs and lose the game. It's all about winning at the end of the day."
via
Clippers are triple towers, not 'Lob City' - ESPN Los Angeles
.
The Clippers may not want it, but the fans need it. Basketball junkies, and even more so Laker fans, will hate the cliche need for a nickname for a team. But teams with identities transcen culture,
provided they are actually great
. Showtime, the Bad Boys ( and to an incredibly leser extent, Seven Seconds or Less), these teams attain a higher leve of notoriety based on that nickname identity.
It's understandable that Paul will want to move away from that. Every time the Clippers struggle on defense, it's somehow attributed to a false desire on the Clippers' part to just put up highlights. This team wants to win. But that nickname is cool, the identity is fun, and it puts them on another level. The Clippers can run Lob City while also playing smart on both sides of the ball and winning championships.
The nickname isn't what's standing in their way. Their play is.
(HT:
PBT
)