Oklahoma City Thunder All-Star forward Kevin Durant goes ice cold in a Game 6 loss to the Memphis Grizzlies. Posted by Ben Golliver.
Oklahoma City Thunder All-Star forward Kevin Durant is the NBA's most prolific scorer and its most consistent. Nobody fills it up like Durant, who averaged 29.7 points on the season, and,
we demonstrated earlier this season
, nobody does it on a night in and night out basis quite like K.D.
Like any elite scorer, Durant's overall impact on a game and his ability to get the ball in the hole are intertwined. When he's feeling it, things open up for his teammates and he plays defense with an extra kick in his step. When he's off, he's more likely to stand around as a passive observer of the game and to force his shots from outside.
What we've seen from Durant in Games 5 and 6 against the Memphis Grizzlies is something he hasn't done all season: Have two "bad" scoring nights in a row.
In Game 5, Durant scored just 19 points (was still the team's leading scorer) in a Thunder blowout win, playing just 31 points. In Game 6, Durant had arguably his worst all-around offensive performance of the season, scoring a season-low 11 points and shooting 3-for-14 from the field. That tied season-lows in field goals and field goal percentage, and he attempted
zero shots coming from in the paint
. All in all, just terrible and very anti-Durant.
During the 2010-2011 season (including playoffs), Durant scored less than twenty points just seven times. His ability to bounce back from those games was remarkable: In the seven games following his less than 20 point performances, Durant averaged 28.4 points and scored at least 26 points in five of them. In other words, the 30 combined points in Games 5 and 6 are by far his lowest two-game point totals of the year.
Here's a chart to emphasize the back-to-back scoring cliff Durant has fallen off. The season progresses through time from left to right.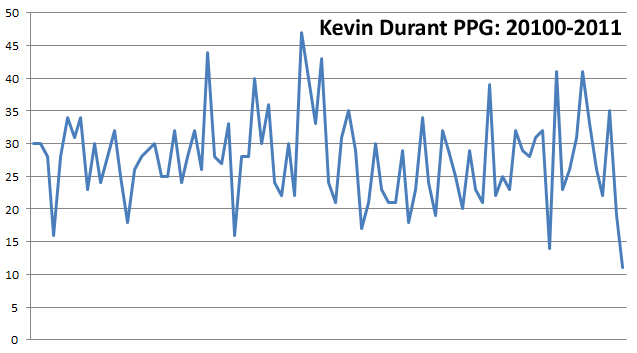 On Friday night, Durant obviously battled foul troubles, picking up two quick ones in the first quarter which led to an extended rest that appeared to affect his rhythm. It wasn't just the fouls, though. Durant was standing around and watching, strugging to get open and rushing his shots once he did get touches. He wasn't totally disintersted but he certainly wasn't engaged, especially as Oklahoma City crashed and burned down the stretch, scoring just 29 points as a team in the second half.
That Durant struggled for the second game in a row at the worst possible time should absolutely be concerning to Thunder fans. His excellent ability to bounce back from poor scoring performances will be badly needed during Sunday night's Game 7. Two games in a row under 20 points was, to this point, unprecedented. Three games in a row under 20 points is almost unfathomable, and it would very likely mean an early end to the Thunder's dream season.