Posted by Royce Young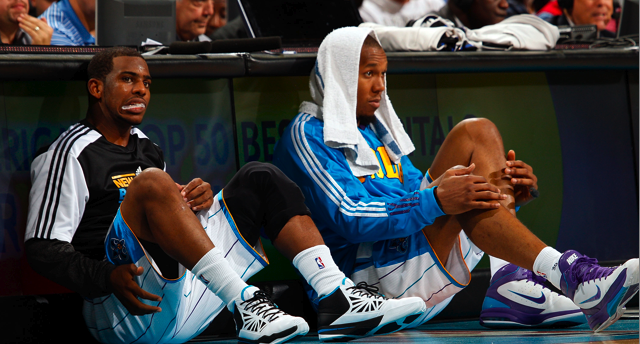 Talk of losing an entire NBA season is a bit ridiculous. But it's a possibility. And with all this hardline talk going on, it seems like neither the players nor the owners are wanting to budge. There's incentive for teams to get a deal done and not just for the money, but because a year without basketball and more importantly, basketball operations, could greatly affect each and every NBA franchise.
Earlier, we took a look at the
Southeast
,
Atlantic
and
Central Divisions
. Let's continue on with the rough and tumble, yet aging, Southwest Division.

New Orleans Hornets
The Hornets easily present the most interesting lockout case of any team in my mind. First off, the league owns them. Secondly, and related to that,
Chris Paul
is a free agent in 2012. The league took on the responsibility of the Hornets because David Stern wasn't about to see a franchise lost on his watch and wants to do everything he can to keep the team there.
But a prolonged lockout resulting in a lost season really might end professional basketball in New Orleans. Chris Paul would have the ability to walk with the Hornets never having an chance to get anything in return, meaning the one draw the team has could be gone and the already struggling franchise might not have anything to show for his exit. On top of that,
David West
opted out and is an unrestricted free agent currently. So not only could the roster be entirely turned over, the already suspect fanbase might take another blow.
Now of course if Stern and the owners can negotiate a deal that makes a franchise like the Hornets profitable no matter what, then the league can sell the team and potentially pocket a bit. That's obviously something in the back of Stern's mind. The Hornets really make this lockout all the more intriguing because now Stern has a stake in things directly. He's not just the mediator trying to produce a good system for his league, but he's an owner too now.

Dallas Mavericks
Here's one benefit of a prolonged lockout: The Mavs get to be champs for two years instead of one. Bonus? I don't think they'd think so. Especially because the window the Mavs have to remain serious contenders isn't going to stay open much longer. Dirk is aging,
Jason Kidd
is like 78 and there are a bunch of questions surrounding players like
Tyson Chandler
,
Caron Butler
and J.J. Barea.
Mark Cuban is a big market owner, but I can see him as someone leaning toward making sure there is basketball over the owners guaranteeing profits. He's a fan first and foremost and he's tasted the top of the mountain. Granted, he gets the chance to soak it up a little longer, but if he wants his roster to keep going, losing a year might be the beginning of the end for the current Mavs.

San Antonio Spurs
There's no hiding that the Spurs are getting older. A year lost means another year tacked on to
Tim Duncan
,
Manu Ginobili
and
Tony Parker
. A year lost means Gregg Popovich gets a little older and as the longest tenured coach in the league, he might not have many left. The Spurs have a fanbase that will absolutely return in force and Peter Holt is maybe the finest owner in the league, especially in terms of managing a small market franchise, but I'm sure a year of lost basketball isn't something that sits well.
Holt obviously would love a system that levels the playing field a bit and helps smaller markets on the road to basking in the same light the
Lakers
,
Bulls
and
Knicks
get, but basketball is a priority in San Antonio. The window won't be open much longer. Even Tony Parker acknowledged that. And that roster still wants to try and make one more run at it all.
Memphis Grizzlies
Really, Michael Heisley probably isn't all
that
terrified from losing a season. He's a small market owner who has spent big as of late and saving money on
Rudy Gay
,
Zach Randolph
and
Mike Conley
isn't all bad for him. The core of the team, sans
Marc Gasol
, is all locked up long-term so while a lost season would mean missing out on all the positive movement and momentum from last season, there's still a lot of opportunity ahead for Memphis.
Still, it's a risk to mess with a potentially fragile fanbase like the Grizzlies'. The FedEx Forum has never been known to be full, but during the postseason run, the Grizzlies emerged with one of the most passionate, loyal crowds in the league. There's clearly something working right now and Heisley and the Grizzlies don't want to jade and sour those fans that have come around by damaging all that goodwill they worked so hard to build.
Houston Rockets
Hard for me to guess how the Rockets see this thing. They are an in-between franchise, not necessarily small market but not big either. Their roster is set up to withstand a lockout and return with good pieces intact. They don't have any major lingering free agents of concern.
What I think would scare them a bit though is missing out on the opportunity to compete in the trade market for players like
Dwight Howard
, Chris Paul and
Deron Williams
all season long though. The Rockets have quality trade pieces and good assets to dangle in front of teams and I'm sure Daryl Morey would have some interesting proposals to make. Sure there's always 2012's free agency but opening it up to that puts the Rockets a bit behind the other, more intriguing, brighter markets. A sign-and-trade might be their best chance to land that superstar player Morey so desperately wants.