Posted by Ben Golliver.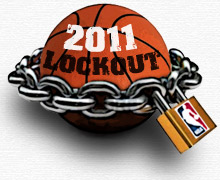 Don't look now, but the pace of the NBA's labor negotiation talks appears to be finally, mercifully, picking up.
After meeting just once during the first eight weeks of the lockout, which began on July 1, representatives of the NBA and the National Basketball Players Association plan to meet for the second time in less than 10 days,
according to SI.com
.
According to two sources close to the situation, the NBA and National Basketball Players' Association have agreed to meet again next week.


As was the case with Wednesday's six-hour meeting in Manhattan, next week's session is expected to include only a small group of representatives and will likely take place on Wednesday or Thursday.
NBA commissioner David Stern, deputy commissioner Adam Silver and NBPA president
Derek Fisher
and executive director Billy Hunter all
met in New York City on Wednesday
, although both sides were tight-lipped about the details of the meeting, going so far as to refuse to characterize it as either positive or negative.
With the pace apparently accelerating, here's what we know: the two sides have agreed to stop taking shots at each other in public and that there is still enough time to get a deal done prior to the start of the 2011-2012 season. We also know that neither side has moved off of their original bargaining positions, neither side seems poised to move off of their original bargaining positions and billions of dollars separate the two sides. We also know that the start of training camp is roughly 3-4 weeks away.
In other words, it's good that the foot is back on the gas pedal, but it's time to really stomp on that sucker.