After taking a must-win Game 3, the Trail Blazers need to do it again in Game 4 to even their series with the Dallas Mavericks. Posted by Ben Golliver.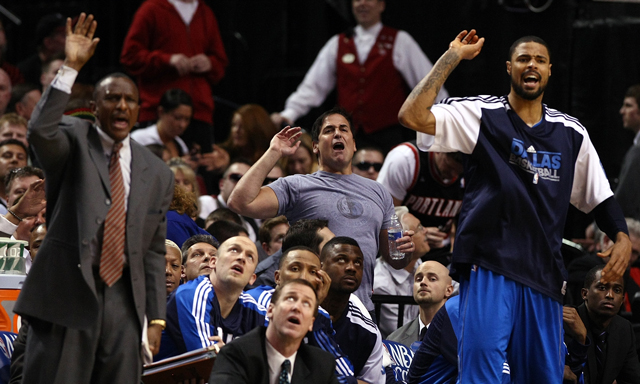 The Narrative:
With the backs against the wall, The Portland Trail Blazers managed to hold off the Dallas Mavericks in Game 3. The Blazers overcame a hot night from
Jason Terry
thanks to an insane first half from
Wesley Matthews
, steady production from
LaMarcus Aldridge
and an energy boost from
Brandon Roy
, who made Portland's first significant contributions off the bench in the series. Roy's 16 points put to rest an emotional 72 hours, and left Roy looking relieved and perhaps rejuvenated.
The only problem for Portland? They rely heavily on their home crowd, and therefore need to get up for Game 4 as if it's another must-win. Should Dallas take a 3-1 series lead back to Texas -- where Portland didn't win in the regular season and struggled down the stretch in Games 1 and 2 -- this one would be all but over.
The Hook:
Statistically, the two teams were virtually even in Game 3, save Portland's dominance in turnover differential, where the Blazers forced 16 turnovers and cashed them in for 16 points. Portland had trouble generating enough offense to keep pace with
Dirk Nowitzki
and company in the series' first two games. By limiting Dallas's possessions and knocking down shots in transition, the Blazers solved that problem.
Many of Dallas's turnovers were mental errors, though, and those aren't particularly likely to happen again in such volume in Game 4. That will put added pressure on Portland's defense to get stops down the stretch. Game 4 could easily hinge on whether or not the Blazers are able to sustain their defensive energy late into the game.
The Adjustment:
The strategic and match-up adjustments figure to be minor by this point in the series, although one player will certainly need to make some changes:
Tyson Chandler
. Much to the dismay of Mavericks owner Mark Cuban and the Dallas coaching staff, the central spoke of their team defense was only able to stay on the court for 15 minutes before fouling out in Game 3. Chandler was dinged with cheap calls almost as soon as he stepped on the court, and, multiple times, he was visibly upset during the game. Smartly, though, he no-commented after the game. Setting moving high screens was a specific problem area that should be fairly easily eliminated, but the Blazers figure to feed LaMarcus Aldridge early and often. Chandler will need to respond with textbook defense, as the boisterous Rose Garden crowd is known for its ability to lean on officials.
Brendan Haywood
doesn't stand much chance in this series, so Chandler's ability to stay on the floor is critical.
The X-Factor:
While various role players have stepped up for both teams through three games -- Roy and
Peja Stojakovic
being the two prime examples -- Game 4 goes back to the superstars, especially Dirk Nowitzki. The big German has been pretty unstoppable in all three games, but he left some points on the table on Thursday, shooting 10-21, and uncharacteristically missing three free throws. Aldridge has drawn primary defensive responsibility on him and he's done a nice job, but Nowitzki can certainly exploit Portland's other defenders to a greater degree than he did in Game 3. He also figures to get to the free throw line more than seven times in Game 4.
The Sticking Point:
In his post-game comments Thursday, Nowitzki said he felt like the Mavericks had taken Portland's best shot without being phased. He may very well be right, as Portland will need some serious luck if they hope to repeat their 8-14 performance from deep. The Blazers are a band of streak shooters and, finally, they were hitting. Wesley Matthews seemingly couldn't miss in the first half; knocking down four early three-pointers to get Portland's home crowd going, and helping push the Blazers to an early lead.
Dallas will surely adjust to that success by crowding and harassing Matthews as much as possible, and if you take away Matthews' huge night, Portland's shooting numbers fall back to earth pretty quickly. Someone else will need to step up -- Roy or forward
Nicolas Batum
-- to stretch the floor and create room for Aldridge and forward
Gerald Wallace
. If not, the Blazers risk reverting to their struggles in Games 1 and 2.