Derrick Rose in Game 3? Unstoppable.
Posted by Matt Moore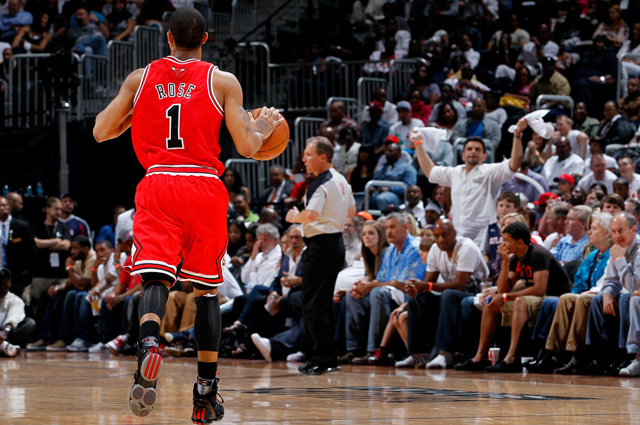 This wasn't the
Knicks
. Golden State's truly disastrous defense wasn't at work here. Sure, the Atlanta
Hawks
played badly in Game 3, mostly on account of their own penchant for bad offense encouraged by
a defensive performance
from the
Bulls
that was reflective of their regular season performance. But the Hawks are not a bad defensive team, and in reality, are only in the semifinals because of that defense.
But Derrick Rose? The MVP? Derrick Rose was unstoppable Wednesday night.
It takes a lot to be unstoppable in the NBA. Players can show and recover as far out as halfcourt. Doubles are constant, welcomed, and efficient when executed correctly. And you're talking about players, often with up to ten inches of height advantage and even more length contesting at the rim (though Rose is certainly taller than many guards). There a way to stop 99% of all NBA players, even the elite ones.
And even if the Hawks hadn't been a step slow on defense Wednesday, it wouldn't have mattered. Derrick Rose could not, would not be stopped. Take, for example, the floater.
Rose's floater is
right
there.
Al Horford
and
Josh Smith
have gone to block it probably a dozen times in this series, and at least four of those came Wednesday night. But his quick release combined with his absurd athleticism means you have to not only get crazy vertical, but you have to time it within a few nanoseconds, otherwise it's up, it's high, it's off glass, and it's in. But the killer for the Hawks Wednesday night was the jumper got going.
Observe: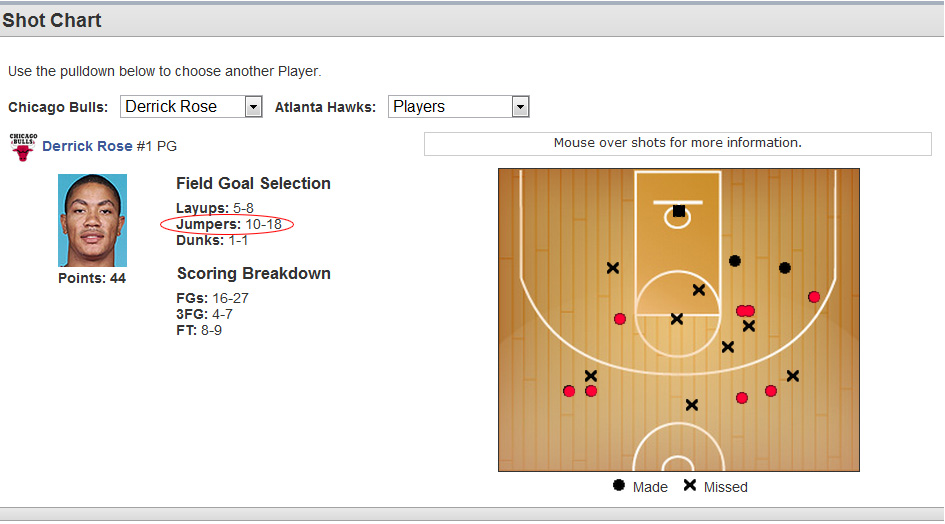 What are you going to do if Rose is hitting 10-18 on jumpers? You can't close on him, he gets to the rim faster than your rotation, and can explode to get airborne from nearly the elbow. You have to hope he misses. Instead, Rose buried the Hawks with more range shots than layups. The Hawks clearly weren't expecting it and, with his quick release, there wasn't any way for them to close. Rose's jumper isn't always going to be there. But it's going to be there on nights like Game 3, and when it is, the Bulls, for all their offensive weaknesses (which are numerous), are a juggernaut.
The Hawks could have played better on offense, with better passing, less dribbling, the same things we always say about them. They could have hit the glass harder, gotten better bench production, got out in transition more. And it probably wouldn't have changed the final result, only the margin of victory.
When Derrick Rose plays like he did Wednesday night, he's not only the Most Valuable Player. He's unstoppable.