Posted by
Ben Golliver
.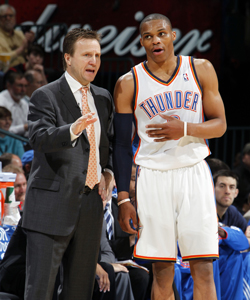 Oklahoma City
Thunder
coach Scott Brooks says that an extended verbal altercation between his two All-Stars is not a big deal.
Kevin Durant
and
Russell Westbrook
reportedly got into an extended "altercation" after Westbrook reportedly scolded Thabo Sefalosha for failing to shoot with an open look during a
Wednesday night
game against the Memphis
Grizzlies
.
The Oklahoman reports
that Brooks believes the situation was "healthy" and not something to get too worked up about.
"When you have an intense game, you're going to have arguments," Brooks told The Oklahoman. "I have no problem with it. I think it's healthy. I think you learn from it and you get better with it. That's just part of an NBA game. We have it and other teams have it. Good teams, bad teams and average teams. I have no issues with how our guys compete. At times they get frustrated. But it's always about the team."
Brooks sticks perfectly to the script here. One thing no NBA coach has ever said: "Gee, my locker room is torn apart because my players hate each other's guts. We're doomed."
This early in the season, and given the chippy Westbrook's chippy personality, he said exactly what needed to be said. If there's a legit argument between the two players, it will be become more apparent before for too long and nothing Brooks says now will matter. If it winds up being something that does blow over, then Brooks handles this correctly by preaching unity and backing his two stars.
Using the word "healthy" alongside "intense," "compete" and "frustrated" was a particularly good choice. The most damaging scenario for the Thunder is that the often-emotional Westbrook gets written off as not being a part of the team concept or, worse, he gets labeled a "hothead" who is out for self. Brooks' word choice works to defuse that thinking which is critically important, because Westbrook refused to take questions from the media after the game.
Handling this thing in-house is the best play for Brooks, but his public reassurances need to come with a private reminder to Westbrook of his obligations to the media and his team. Ducking out not only makes Westbrook look bad, it potentially complicates an already tense situation. A one-time allowance can be made given that Westbrook arguably had one of the worst games of his career, shooting 0-for-13, but much more is asked of stars in the NBA. At the top of the list is composure and accessibility, especially under the media spotlight.