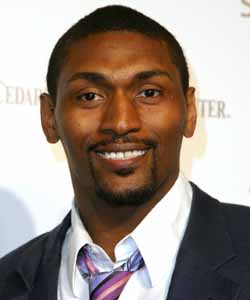 By Matt Moore
Metta World Peace
, the player formerly known as Ron Artest,
has been very vocal in his criticism
of Michael Jordan selling out the players now that he's an owner after championing their cause 12 years ago. He continued that theme the other night as he challenged the G.O.A.T. to a game of one-on-one with the fate of the lockout on the line. From the L.A. Times:
As for Lakers forward Metta World Peace, the work stoppage apparently has made him suffer amnesia for reasons beyond missing out on the remainder of his three-year, $21-million deal. Its further propelled him to go on unsolicited Twitter rants, which resulted in him Monday night challenging Michael Jordan to a game of one-on-one.

"Come on Jordan!! Bring it. One on one. I win lockout over. Ill beat u with my eyes closed and a in and out burger in my right hand!!"
via
Metta World Peace challenges Michael Jordan to one-on-one - latimes.com
.
It's the double-exclamationmark there that really sells it.
MWP also challenged Jordan, saying
he'd spot him 20 points "and a bag of cheetos."
He even offered to let Jordan keep the cheetos if he won. That's how magnanimous MWP is. He also said he'd beat Jordan with a Subway
sandwich in his hand
while listening to Bon Jovi on headphones.
If you're pondering a theme here, it's "Metta World Peace is (still) out of his mind."
That said, given the state of the lockout, you'd have a hard time finding a fan that wouldn't mind risking it just to get the owners off their intransigent position. Then again, it is Michael Jordan. So the odds are not great, even at MJ's age.