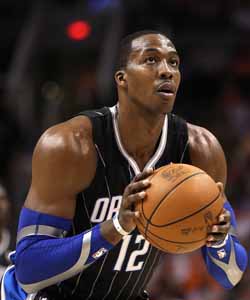 Posted by Royce Young
The first All-Star ballot returns are out and leading the entire league in votes is
Dwight Howard
with 754,737 votes with
Kobe Bryant
second with 690,613. Second in the East is
LeBron James
(640,789) and in the West
Kevin Durant
(633,538).
If the voting ended today, the East's starting five would be
Derrick Rose
,
Dwyane Wade
, LeBron,
Carmelo Anthony
and Howard. In the West it would be
Chris Paul
, Kobe, Durant,
Blake Griffin
and
Andrew Bynum
.
And looking over the vote totals, those starting lineups seem to be a bit set in stone, barring injury. Nobody is really all that close to catching anyone (Dirk is closest behind Griffin, and he's more than 100,000 votes back).
So, are the fans getting it right so far? Kind of looks like they are, quite honestly. Can't argue with the West too much. The one quibble I'd have is that
Kevin Love
has been absolutely killing it in Minnesota so far this season averaging 25-15, but he's not part of Lob City, so it's hard to see him ever topping Griffin. Same goes for
LaMarcus Aldridge
, who is off to a fantastic start. I'd also like to mention that
Kyle Lowry
has gotten off to a terrific start this season, but it's not good enough to top Paul.
In the East, there's really nothing to change. Melo isn't really a power forward, but you can fudge the All-Star rosters a bit.
Rajon Rondo
isn't playing better than Rose, there's no better 2 in the East than Wade and of course LeBron and Howard are the best at their positions in the entire league.
If the voting holds like this -- and it should -- we'll have a pretty accurate representation of the best in each league to start the All-Star Game. Again, I'd go with Love over Griffin, but that's not a sure thing case to make at this point. And it's not going to change anyway.