Posted by Royce Young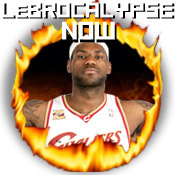 Brian Windhorst of the Cleveland Plain Dealer tweeted
at around 11:30 a.m. ET that the Cavs were in active trade talks with the
Timberwolves
to acquire point guard
Jonny Flynn
. Flynn is represented by LeBron's agent as well as LRMR, LeBron's marketing firm.
Two interesting things here:
1)
Can Cleveland really sway LeBron's decision at this point with a trade like this? Is that the reasoning behind it? Or are they already trying to move on? Regardless, obviously the major, most pressing concern for LeBron in returning to Cleveland is the supporting cast. So the Cavs are trying to remedy that by grabbing a promising young point guard. Makes sense. But this is like 11th hour stuff here. Maybe LeBron already knew about these talks a week ago. Maybe the Cavs promised LeBron they were going to be active in the trade market to improve the team. Or again, maybe they're trying to move on. Who knows. Well, we'll know in about nine hours I guess.
2)
David Kahn trading a point guard? So maybe
that's
why the Wolves talked with
Luke Ridnour
. Can't just trade Flynn away and then have a reasonable amount of point men, no. Kahn's got to have his garage full of them. But seriously though, trading Flynn could
potentially
open up the door to bring
Ricky Rubio
over in the next few years. Rubio was miffed when the Wolves drafted Flynn. Maybe clearing that spot could help relations a bit. This could actually make a little sense. That is until we see the deal is probably for
Mo Williams
and
Daniel Gibson
.
Whatever the case, if this trade happens, it'll add a little more drama to a day that's already chock full of it. And that's really what we need, right?