So... no pressure, guys, but, uh... this game probably decides the series.
Posted by Matt Moore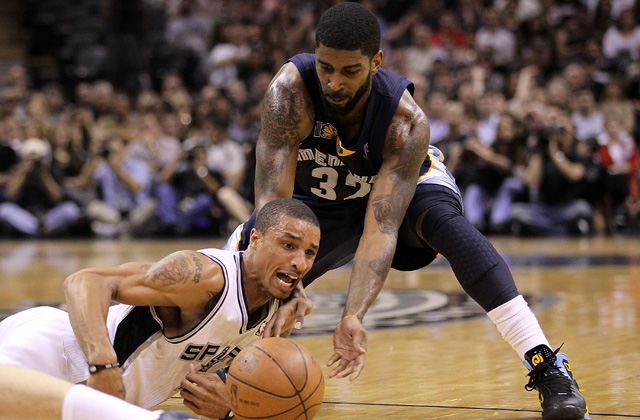 The Narrative
: The series will either right itself in terms of the logical order of the universe, where the No.1 seed takes control of the series, disheartening the home team in their first playoff game in five seasons... or, the inmates run the asylum for another few days and may just have a chance to break out. How big is Game 3? The Duncan-era
Spurs
have never won a series in which they lost two of the first three games when they had homecourt advantage. They've only lost one series in which they won two of the first three (
Lakers
). So this is kind of a big deal. Will Memphis' fans show up? Will
Manu Ginobili
have an even bigger impact in Game 3 than he did in Game 2 (when he had five turnovers)? There's a lot of uncertainty about this game, but a Spurs win will calm the waters and restore some order to our chaotic universe.
The Hook:
The Spurs' 3-point barrage broke out a little big in Game 2, but hasn't fully gotten loose. The corner three was available, especially late, helping the Spurs to put Memphis away. That's got to continue.
Matt Bonner
has to make big shots to justify his floor time considering he's a defensive liability that calls for a clearout every time he's on the floor.
George Hill
can destroy the
Grizzlies
if he can pull defenders and then hit when they collapse. And Manu Ginobili can just straight up pull-up and nail big shots. 3-pointers are often affected by homecourt advantage, there's a weird energy that affects those plays, being the big momentum swingers they are. How the Spurs respond will be a big deciding factor. In the regular season, the Spurs shot 5 percentage points worse from the perimeter on the road than they did at home. There are some playoff veterans on this team, and some inexperienced shooters. If the Spurs get hot from the outside, Memphis may drown defensively. They've done a good job running them off in this series. Keeping them off is another matter.
The Adjustment:
The Grizzlies gotta get space, man. In Game 2, the Spurs collapsed the lane, daring the Grizzlies to beat them with mid-range jumpers. The correct response here is to spread the Spurs out using spacing and continue to attack the rim. Instead, Memphis obliged and the result was control of the paint for San Antonio. The Grizzlies have to clear things out and that means hitting a few mid-range jumpers. But instead of the off-dribble pull-ups they went to in Game 2, the Grizzlies need to utilize the space created by the pick and roll. They have reliable spot-up shooters in Darrel Arthur and
Marc Gasol
, and on the perimeter with
O.J. Mayo
,
Mike Conley
, and
Shane Battier
. If they use ball movement to create open looks, their offense looks much better. Off the dribble, it's an abject mess, and that's before you factor in San Antonio's penchant for creating turnovers out of such situations using their trap-and-swipe. If those shots open up the floor, the Spurs' defense will adjust which opens up interior passing to Randolph and Gasol, who can score, even if they're slightly out of position as long as they're not blanketed. How that adjustment fairs will determine if Memphis can carry any efficiency offensively at all.
The X-Factor:
O.J. Mayo has had decent, but not great games in the first two of this series. In Game 2, he went hero mode, trying to attack off the dribble and forcing shots while still drawing bad fouls. Mayo is a phenomenal streak shooter. When he works off the catch-and-shoot, or when Lionel Hollins uses him as such, Mayo can burn a defense and leave them shaking their heads. When he tries to produce off the dribble against bigger and longer defenders like George Hill, he gets swallowed alive and his bad decision making compounds it. The Grizzlies' bench unit is much better than it was at the start of the year, but still needs some form in order to function. Called plays for Mayo off-screen and catch-and-shoot could hurt the Spurs and frustrate them. Running improvisational sets with Mayo as ball handler or working with
Greivis Vasquez
at point will lead to more of the wasted possessions we saw in Game 2. Mayo has to get his if Memphis wants to take the advantage in this series.
The Sticking Point:
If you're talking about talent, outside of the Big 3, you could make the argument the Grizzlies have looked like the more talented team in this series.
Zach Randolph
, Marc Gasol,
Tony Allen
, O.J. Mayo, Shane Battier, Mike Conley, the list goes on. It's not a runaway by any means, but you could make the argument. It's been close these first two games. But championship caliber teams know when to take control of the wheel. The Spurs function better than the Grizzlies systemically, and that's why Game 1 was so tight, and Game 2 was a win for the favorites. That's what this series really comes down to. Individual efforts vesus group think. And in those situations, group think usually wins when they have the strength and ability the Spurs do. That said, a loss would unravel that system somewhat, and create self-doubt. Once that's introudced, it's a whole new ballgame and Memphis will be riding a surge of momentum going into Game 4. Game 3's are always pivotal. Most playoff games after the first two are pivotal. But you get the sense that this game really will decide the series.