Posted by Ben Golliver.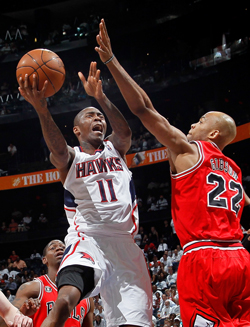 A lengthy courtship has come to fruition.
SI.com reports
and
Ken Berger of CBSSports.com confirms
that unrestricted free agent guard
Jamal Crawford
has chosen to sign a 2-year contract worth $10 million with the Portland
Trail Blazers
. The second year of the deal will be on a player's option.
Crawford
posted a Twitter mesage
shortly thereafter: "rip City!!!"
To legally make that offer, Portland must move below the luxury tax line so that they are able to re-acquire their full Mid-Level Exception. That could come via a massive salary dump in a trade or by using the amnesty clause on guard Brandon Roy, who recently announced his decision to pursue a medical retirement because of multiple knee injuries.
Back in November,
Crawford told CBSSports.com
that the interest between himself and the Blazers was mutual. Members of the Blazers, including franchise forward
LaMarcus Aldridge
, had been aggressively recruiting Crawford, a Seattle native, to add depth to Portland's backcourt, which took a hit with the loss of Roy a trade that sent backup guard
Rudy Fernandez
to the Dallas
Mavericks
on the night of the 2011 NBA Draft.
Crawford, 31, averaged 14.2 points and 3.2 assists for the Atlanta
Hawks
last season and was named the NBA's sixth man in 2010. The Hawks, after dishing out big dollar deals to guard
Joe Johnson
and big man
Al Horford
, and with forward
Josh Smith
on the books for big money already, opted not to offer Crawford an extension.