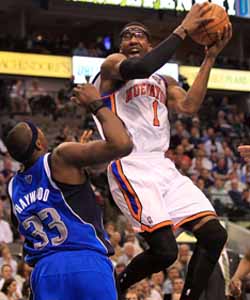 By Matt Moore
Amar'e Stoudemire
had been organizing a
Knicks
team workout at IMG Academies in Florida this month. It's the same thing that's being done by multiple players across the league, as they try and keep team chemistry and cohesion sharp in a lockout. Since they can't train at the team facilities, they might as well train together somewhere else. It's been interesting to see who organizes these ventures, as it shows a certain level of leadership. Stoudemire organizing such a workout while
Carmelo Anthony
plays exhibition games with
LeBron James
and Eddy Curry isn't exactly a shocker.
But apparently that workout is on hold, and for a fairly big downer for NBA fans.
Alan Hahn of Newsday reports
that Stoudemire has postponed the sessions on account of the dismal nature of the CBA talks. In short: things are so bad, they're almost definitely losing games, so there's no rush. The push back is only to October, but that's still a fairly strong declaration that Stoudemire, like many NBA players, is certain that games will be missed and there's no reason to push things since they won't be playing for a few more months.
Stoudemire's been busy in the offseason with trips to China and teasing various overseas options before backing out, reportedly from an issue over insurance. This gives him some more free time for all those extracurricular activities of his. It's good to see Stoudemire taking a leadership role on the Knicks, and not being brought to the background by the arrival of Anthony. It's just too bad the lockout is going to stand in the way of the Knicks making progress as a team.