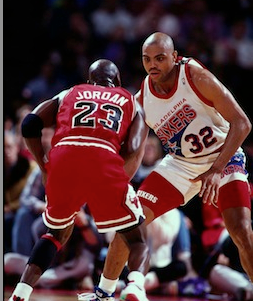 Barkley does not approve of MJ's work as an executive.
(Getty Images)
Posted by Royce Young


Michael Jordan is the greatest ever. Let me be more specific. Greatest
player
ever. Because in terms of being a basketball executive, he hasn't had a lot of success.
He's the primary owner for the Charlotte
Bobcats
and was president of the
Wizards
when they drafted
Kwame Brown
No. 1 overall in 2001.
And as Charles Barkley told ESPN Radio in Chicago
, His Airness has not been all that great in the front office.
"I think the biggest problem has been I don't know if he has hired enough people around him who he will listen to," Barkley said Thursday on "The Waddle & Silvy Show" on ESPN 1000. "One thing about being famous is the people around you, you pay all their bills so they very rarely disagree with you because they want you to pick up the check. They want to fly around on your private jet so they never disagree with you. I don't think Michael has hired enough people around him who will disagree."

[...]

"I love Michael, but he just has not done a good job," Barkley said. "Even though he is one of my great friends, I can't get on here and tell you he's done a great job. He has not done a great job, plain and simple."
Hard to argue with Barkley's assessment, seeing as the Bobcats are an NBA worst 4-29 this season, while losing 19 of their last 20. Jordan fired last season's head coach Larry Brown and basically blew up the roster trading
Gerald Wallace
while deciding not the re-sign
Raymond Felton
.
Jordan became a part owner of the Bobcats in 2006 and hired former
Bulls
teammate Rod Higgins as his general manager ni 2007. Jordan assumed primary ownership in 2010. In June of 2011, Higgins was promoted to president of basketball operations as Rich Cho was hired as general manager after being fired from that position in Portland.
So here's Jordan's record in charge of Charlotte: Drafted Adam Morrison third in 2006,
Brandan Wright
eighth in 2007 (traded him to Golden State),
D.J. Augustin
ninth in 2008,
Gerald Henderson
12th in 2009, didn't have a pick in 2010 and
Kemba Walker
ninth in 2011. This will likely be the first time in Charlotte, other than the Morrison pick, that Jordan will have a decision to make in the top five the draft.
That's where you make your moves. That's where you turn things around. As of now, Barkley's right about MJ. He hasn't done a good job. But that doesn't mean all hope is lost.