Posted by Royce Young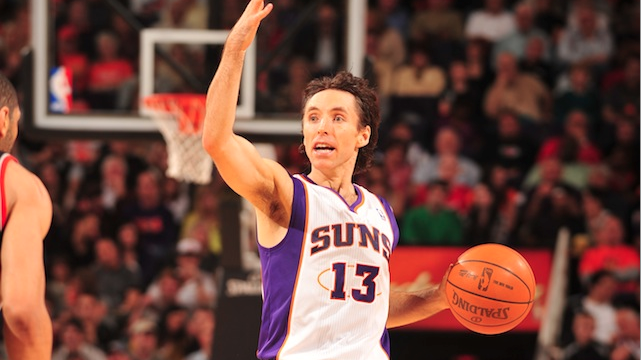 OK, so it was against the
Wizards
. But they have
John Wall
, remember? And Ricky Rubio
torched
them. Off the bench for the Wolves, Rubio piled up 13 points, 14 assists and six rebounds while being a +29. It's not so much that he's dazzling and making us say "Oooh" every time he passes it anymore. He's just a dang good point guard and he makes the Wolves a much better team.

Nash dished out 17 assists, but 10 came in the
first quarter.
While people like me fawn over Rubio, you can't forget that Nash is still the best setup man in basketball.
Chris Paul
is a better point guard, but nobody puts a pass right on the money for a good shot quite like Nash. The
Suns
have been pretty up and down, but have won two straight games to get back 4-4. And when Nash has it going, that's a team that beat a whole lot of teams.

The Thunder are the first team this season to sweep their back-to-back-to-back with an easy rout of the
Spurs
.
Kevin Durant
flirted with a triple-double (21-10-7) and OKC's bench piled up 53 points. But as coach Scott Brooks said after the game, he wanted to keep it in perspective. The Spurs, who are old, were playing without
Manu Ginobili
and in their fourth in five nights which meant a lot of their veterans didn't play. Impressive win, but against a wounded opponent.

Since calling out
Russell Westbrook
, Felton has been pretty average. He's gone 7-30 from the field in his last three games, including 1-9 Sunday against the Cavs that featured five turnovers. Felton's Blazers are 2-1 in that time, so that's no so bad and he's dished out 19 assists, but he isn't exactly looking quite as hot as he did after beating Westbrook.

Matching up against his brother Pau and
Andrew Bynum
, Mark wasn't good. He didn't make a shot in nine tries and scored only two points in 44 minutes. He grabbed 11 rebounds, had four steals and three blocks, but without
Zach Randolph
, Memphis isn't going to beat many teams getting nothing offensively from Gasol in 44 minutes.
Washington Wizards

I think we might just need to remake the "F" for each night into a little Wizard logo. Because this is becoming a nightly thing. It's almost a surprise if Washington is competitive. I don't think they've necessarily quit on Flip Saunders, but
something
isn't working for them. They're terrible, John Wall isn't making a move forward and the other players around him aren't helping much. The Wolves are a decent team but getting blasted by 21 at home while only scoring 73 points. Come on.