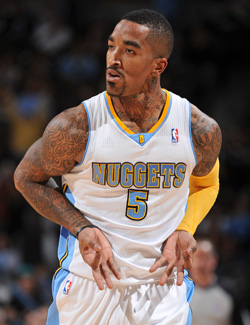 J.R. Smith will join the Knicks and Linsanity.
(Getty Images)
By Matt Moore
The long, enduring process of bringing J.R. Smith to the Knicks has ended. Smith announced on Twitter Friday he'd chosen the New York Knicks.
New York Knicks It Is!

— JR Smith (@TheRealJRSmith) February 17, 2012
After reports indicated earlier this week that Smith's decision was down to the Knicks or
Clippers
, and then that the Knicks had taken the upper hand, reports Friday indicated that the decision has been made. The
New York Post reporte
d that Smith would sign Friday with the Knicks, and will be in uniform Sunday when Linsanity faces another tough test against the Dallas
Mavericks
in Madison Square Garden.
Smith
confirmed to Alex Kennedy of HoopsWorld Thursday
that he was close to a deal with the Knicks, though he did not confirm it was done. Meanwhile, the
Oregonian
reports of the insane lengths both the Clippers and Knicks are going through to try and sign Smith, including sending a representative
to meet Smith when he got off the plane
. From the
Oregonian:
Things got so interesting Thursday that Smith hopped a plane from China to LAX, arriving at the airport in the late afternoon, where he was intercepted, his camp said, by a representative for the Knicks. Smith was apparently headed later in the evening to Las Vegas, and according to a source in Smith's family, the Knicks bought a ticket for their guy and sent him along, too.

New York apparently hoped to sign Smith as he cleared Customs, and I can't say I blame them after what I heard Del Negro promised Smith.

Get this: Smith was told via text message from Del Negro, in what feels like a desperate, last-ditch effort, that he'd be -- a starter -- for the Clippers.

Start? Smith? Really?

"What I text to J.R. is between J.R. and me," Del Negro said. "We're just trying to make our team better. I think everyone on our team understands that."
via
Canzano: Fight for J.R. Smith offers warnings for
Trail Blazers
| OregonLive.com.
So that's a little insane.
Can we take a second to note that J.R. Smith has been back in the states for less than 12 hours and was headed to Vegas? How can you not love the NBA?
Smith joining the Knicks helps bolster their depth considerably. Being able to play a second lineup of
Toney Douglas
/Mike Bibby, Iman Shumper,
Landry Fields
, and a big to pair with
Amar'e Stoudemire
or
Tyson Chandler
means the dropoff won't be as big, and the ability to keep a scorer on the floor with Melo or, ahem,
Jeremy Lin
on the bench helps considerably in the backcourt.
It also means the Clippers will have to go elsewhere to try and recover their scoring lost when
Chauncey Billups
tore his Achilles.