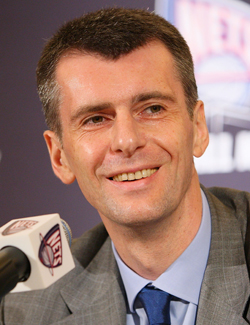 Conflicting reports surface regarding possible revived Nets-Nuggets talks for Carmelo Anthony.
Posted by Matt Moore
I could have
swore
we were just here.
Yahoo! Sports is reporting
that the New Jersey Nets are in "advanced talks" in a huge nine-player, four-pick deal that would shake out as the following:
New Jersey Nets receive:
Carmelo Anthony
Chauncey Billups
Renaldo Balkman
Melvin Ely
Shelden Williams
.
Denver Nuggets receive:
Derrick Favors
Devin Harris
Troy Murphy
Ben Uzoh
And...
four first-round picks.
That is an absurd lump of assets for one player, and if true, shows just how desperate the Nets are to contend immediately. They're giving up Derrick Favors and Harris, along with the expiring contract of Troy Murphy, basically to get Melo and Billups. And that's before you factor in giving up 4 first-rounders. Those picks are likely spread out over the 2011 through 2014 draft (the Nets own the
Warriors
2011 pick, lottery protected, as well as their 2012, and the
Rockets
' 2012 picks), but that's a massive amount of first-rounders to surrender, even for an All-Star, before we look at the value of Harris and Favors.
However, a spokesperson for Nets owner Mikhail Prokhorov Thursday r
easserted to the AP that the owner "has not changed his mind"
since cutting off talks with the Nuggets over the last deal when the Nets were asking for three first-rounders.
ESPN reported Thursday
that the Nets had entered into talks again, and that it was Prokhorov's insistence that the Nets be the ones to open the dialogue again.
So either Prokhorov's spokesperson is lying or not up to speed, and Prokhorov decided it was fine to deal with Denver if they opened talks, even if it meant talking about an even higher price tag than the last one Prokhorov walked away from, or the Nuggets are trying to apply pressure on New York by fabricating talks with the New Jersey Nets.
So this is fun.
Expect things to continue on this track through the weekend and possibly all the way to the deadline. The Melo story has just hit a whole other gear of crazy.