Posted by Matt Moore
You know who has two thumbs and doesn't give a crap about the All-Star game?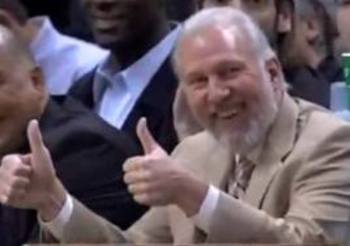 This guy.
Unfortunately, for Pop, he'll be coaching the All-Star Game after his team locked up the best record in the West at the deadline. From the
San Antonio News-Express
:
Monday's victory at Golden State ensured the Spurs will have the Western Conference's top record by the Feb. 6 deadline to select All-Star coaches, meaning Popovich will be drafted into working the Feb. 20 midseason extravaganza in Los Angeles.

It marks the second All-Star nod for Popovich, who also coached the 2005 West squad. He is 0-1, having lost to the East that year 125-115.

Nobody seems giddier at the prospect of seeing Popovich prowl the Staples Center sideline than Spurs star Tim Duncan."He's been talking all season about how he wants to make sure he gets that position," Duncan said, with tongue planted in cheek."I think he's really excited about it."

So far, Popovich is saying all the right things, calling his All-Star selection, "a great honor."
via
Spurs Nation » Popovich gets seat on All-Star bench
.
Somehow you have to think if you ask him about going to the dentist he'd call it "a great honor." Since he probably has as much enthusiasm. Popovich isn't one for platitudes or pageantry, which is most of what the All-Star game is. There's not only no concerted need to effort towards victory, there's a distinct demand to avoid contact in order to prevent injury. It's pretty much the opposite of what Popovich likes to teach, like to preach, what he brings to his team. And with Duncan only a slight favorite to make the team out of respect, and both Parker and Ginobili longshots, he won't even be coaching his guys. Not that there's much coaching to be done.
Can't you imagine Popovich walking into practice on Saturday morning, waiting till the press leaves, sitting down, opening a paper, and waving his hand dismissively. "Shoot, or whatever."
But hey, I'm sure the gift bags are nice, and the wine selection's probably killer out there.
(HT:
Basketball Jones
)