Dallas Mavericks guard DeShawn Stevenson denies posting a disrespectful message about LeBron James on Facebook. Posted by Ben Golliver.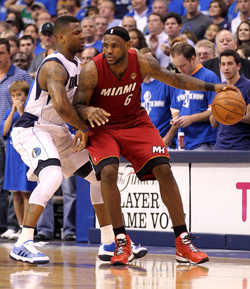 The assaults on LeBron James have come from every direction during the 2011 NBA Finals.
The local and national media have taken plenty of shots. Multiple members of the Dallas Mavericks --
Jason Terry
,
Shawn Marion
, DeShawn Stevenson -- have sent barbs his way. Everyone from television commentators to casual observers have questioned his fourth quarter abilities. But there is one place James doesn't need to worry about hearing smack talk: Stevenson's Facebook page.
One day after
ProBasketballNews.com reported
that an anti-LeBron message -- "I told em Lebron is Overrated but did they listen? swag." -- appeared on a Facebook page bearing Stevenson's name, the Mavericks guard
told ESPNDallas.com
that he does not have an account on the social networking site.
"There's like 37 people that are acting like me on Facebook," Stevenson said. "I mean, if you look at me and look at all these tattoos, do you think I'd be sitting on the Internet and typing? C'mon, man. Sometimes you've got to look at a person. I would not be in my house on a computer typing nothing about anybody.

"I can't get on there because I would say something reckless," Stevenson said. "That's why I don't have nothing on there. That's why really I can't have one."
Yes, Stevenson really just played the "I'm technologically illiterate because I am tattooed" card, which is a new one, at least to me.
Stevenson
made national headlines
earlier in the series, when he said James "checked out" of the fourth quarter of Game 4. The two have exchanged words in the press for years.
James' response at the time was simply: "Talk is cheap."
If talk is cheap, what does that make an unverified Facebook status update? Cut-rate? Broke? Bankrupt?