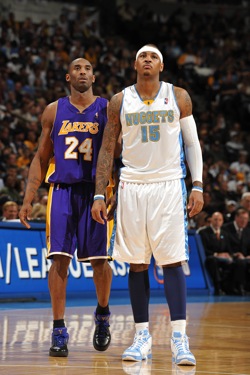 Posted by Royce Young
A few things of note from the past few hours of my Internet
Carmelo Anthony
stalking:
Ken Berger of CBSSports.com reports the Carmelo deal is in a holding pattern. One executive not involved in the trade told Berger, ""With every day that passes, the bigger deals fall apart." But that doesn't mean this is falling apart. Another source told Berger that the feet-dragging from Denver was simply "part of getting a deal done."
Berger reports multiple executives watching the Carmelo situation believe the reason behind making the four-team trade talk public was an effort to solicit better offers from other teams. But the list is already short. Still, Melo prefers New York with Chicago, Houston, New Jersey and even the Clippers on the list. But the only places that Melo has reportedly been ready to sign is New York and Chicago. Part of the reason we've been hung up here is because of a potential hesitance for Anthony to re-sign with the Nets.
A completely random team that's tried to jump into the trade talk? The Cavs. Berger reports Denver has targeting Anderson Varejao as an acceptable replacement for Anthony and that Cleveland has at least inquired. Brian Windhorst of the Plain Dealer reports a similar thing, saying that like most teams, the Cavs have at least placed a phone call or two. The thing the Cavs have in their back pocket though is a $14.5 million trade exception. That's something that makes them a player in pretty much any deal.
According to Marc J. Spears of Yahoo!, Kobe Bryant has given Carmelo some advice: Don't leave just to leave. Reportedly, Melo asked Kobe for some thoughts since Bryant was in a similar position in 2007 with the Lakers. Bryant asked to be traded but ended up staying in LA and I think the team has done alright since then. "We'll see if he signs a reasonable extension and if he's 100 percent happy that it's where he wants to go," Bryant told Yahoo! Sports Saturday. "If not, don't make a move just to get out of the situation. …Make sure it's a move that you're very happy in and you're comfortable with."
Reportedly, Carmelo wants a promise from any team he signs with that he gets to be the head coach and handle all personell moves for his new team. OK, I made that one up. Just seeing if you were still paying attention to all this stuff.