Kobe Bryant must curtail his shooting as his percentage dips with the Lakers struggling, but come playoffs? They'll be fine.
Posted by Matt Moore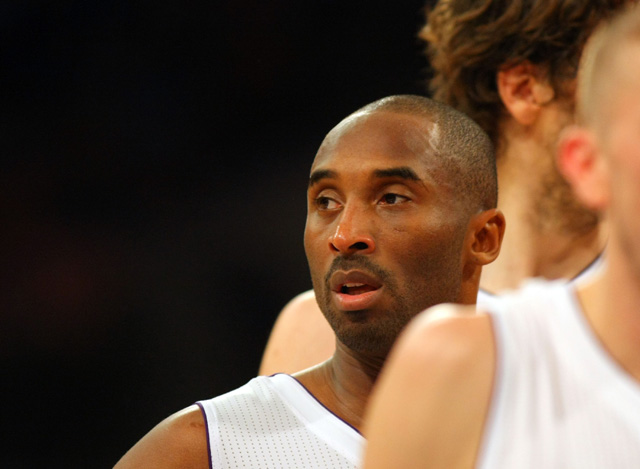 The Lakers are 7-8 this year when Kobe Bryant
shoots more than 20 times
. The defending NBA champions who are 21-10 overall, have a losing record when Kobe Bryant shoots more than 20 times. On the season, Bryant is shooting 44% and 33% from the perimeter. In those 15 games where he's shot 20 attempts or more, he's shooting just 41% and 30% from the arc.
So, in all honesty, Kobe's got to stop shooting.
Don't count on it.
Before the season started, there were discussions with the Lakers training staff and coaches about Bryant's role in the offense, and the hope that he would come to accept a decreased role in the offense. Instead, Bryant seems more intent on shooting his way out of the hole the Lakers have found themselves in. He has responded to the Lakers' struggles by yelling at teammates, demanding improvement, and then going out and not letting the most talented team in the league be the most talented team in the league.
This is the worst part of Bryant's offensive kamikaze failures. The Lakers' offense features the personnel, talent, and system to allow them to overcome any individual challenge. Is the defense denying
Pau Gasol
the entry pass (while he's once again failing to establish position)? Lamar Odom off the cut should pull the defense apart to allow Gasol better angles. Has the defense compacted to shut down on interior movement? Shannon Brown,
Ron Artest
,
Steve Blake
, and
Derek Fisher
will make them pay from the perimeter.
Bryant's refusal manage his game when it's not falling (or when his pinky is bothering him) has to concern Lakers fans not only about this season, but about how the rest of his career will shape up as his skills continue to deteriorate. But at the end of this, after three losses of double digits by the Lakers, are they in trouble?
Come on. It's December.
This Lakers team had troubles in the 2009 playoffs. They slacked off in the regular season last year. And while this stretch of games feels considerably worse than their issues last year which were all coasting, Phil Jackson has five months to get the team right. This has never been a team to sprint to the finish. Or the middle. Or really at all. For a team driven by such an obsessive as Kobe Bryant, the Lakers haven't held an all-out attitude. But they still have two rings to show for it. Trying all the time and remaining focused hasn't been their path. But being taller, more talented, and more experienced has gotten them where they want to go, regardless of how they perform in the winter months. Spring is what matters for this team.
The questions are about whether they'll have home court advantage. But with the experience this team has, it may not need it. There's not a dominant home court advantage for a contending team, unless you consider Oklahoma City such a team. The Lakers just need to get a top four seed, not the top seed. As long as they're ready for May, that's what they care about.
That said, the Lakers danced with Bryant shooting them out of games in the playoffs last season, but managed to survive it. (Go check out his numbers from Game 7 of the Finals.) This year, with an improved Eastern Conference and now the West making a strong show, at some point, something's got to give. The coaching staff is going to have to get Bryant to buy into trusting his teammates in a way he never has before. In the past, he's relied on them to fill in the gaps of his game. Now, he may need to rely on them to carry him for stretches. Something tells me that's going to be an awkward conversation for the Mamba.