Posted by Royce Young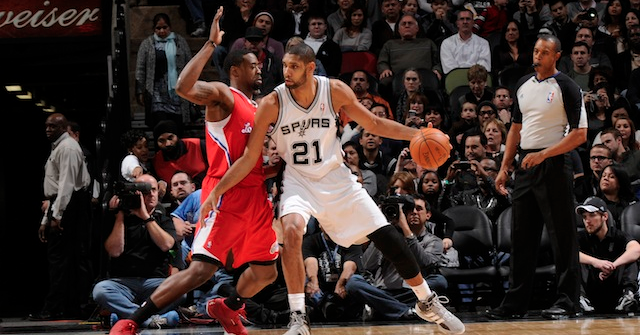 A: San Antonio Spurs
The Spurs are too old right? THIS is the year it all starts coming apart for them, right? Yeah, right. The
Clippers
came to town bringing their lightshow of dunks and alley-oops, but the old, slow Spurs had no problems handling all that noise. San Antonio used a 38-point third quarter to pull away from the Clips and really highlighted a lot of issues Lob City has. They need a shooter and some depth, badly. The Spurs seem to have it all together once again, as long as the old guys can stay healthy. Doubt them all you want. Pay attention to the young, excited kids running and jumping and dunking. But the Spurs will just keep winning no matter how boring you may find that, thank you very much. The Spurs are 2-0 with blowout wins over Memphis and the Clippers. No big.
The
Heat
got a tougher than anticipated test from the
Bobcats
, but LeBron and Bosh were terrific for Miami. LeBron had 35 points, seven assists and six rebounds. Bosh had 11 of his 25 in the fourth. And he also had
this incredibly awkward and awesome dunk
.
B: Oklahoma City Thunder
The Thunder picked up a third straight win, beating Memphis 98-95 on the road, but it's a bit tainted as
Mike Conley
injured his ankle on the very first possession of the game. And on top of it, the Thunder shot just 37 percent from the floor and gave up 19 offensive rebounds. But winning is winning and it's always good. Especially when it's on the road against a contender.
Kevin Durant
dropped a beautiful 32 points and carried OKC down the stretch.
C: New Orleans Hornets
They beat the
Celtics
to start 2-0. And they did this one without
Eric Gordon
. That really deserves an A. But you're supposed to be doing bad, New Orleans! You're supposed to be tanking this season away! You're supposed to be setting yourselves up for the Anthony Davis sweepstakes! Each win will be bittersweet this season for that stupid reason. It's supposed to be about the future and every win hurts that a bit. It's a horrible thing, but reality.
How's this for a line: Four points, 0-13 shooting, four turnovers. Yikes. So why isn't this an F? Because Westbrook picked up six assists, hit two very important free throws in the final seconds and his team won.
F: Boston Celtics
What can you say? The Celtics are 0-3 and just lost to the Hornets despite their best player sitting. And it wasn't even a close game as they lost by 19. Yeah,
Paul Pierce
is hurt. Yeah, it's a night after that tough game in Miami. That's not supposed to be an excuse for a team like the Celtics though.
E for Effort: Charlotte Bobcats
So,
sooooo
close to knocking off the Heat. Miami was dragging a bit and probably overlooked Charlotte a bit as the Heat were coming off a game the night before against Boston, but the Bobcats were ready to go. Charlottle held a one-point lead with a few seconds left and if not for
Dwyane Wade
being ridiculous, the Bobcats would've registered the upset of the early NBA season. Things to be encouraged about though if you're Paul Silas and the Bobcats though.
Gerald Henderson
,
Kemba Walker
,
Bismack Biyombo
and
D.J. Augustin
should give Bobcat fans something to be excited about.
Incomplete: Indiana Pacers
The Pacers are 2-0, but have wins over the
Pistons
and
Raptors
, with both games being relatively close. Are they good or just beating who they're supposed to beat? It's hard to know right now.