Posted by Royce Young

Fall is here, hear the yell, back to school, ring the bell ... The NBA season is right around the corner, and NBA training camp starts in just a few short weeks. To get you ready for the NBA season, we've put together 25 pop quizzes. Pencils ready? We continue our Pop Quizzes with this question...
What teams are set for a drop in success?
Maintaining excellence for an extended period of time in professional sports isn't easy. Even the big spending, big market clubs have to make the right moves, retain players and keep putting a product on the field or floor that can win.
There are ebbs and flows with teams every season and in the NBA this year, we might begin to see a little shuffling with some of the familiar successful faces moving down the line in the standings while others move up.
So who could be moving down? Who might be dropping off a bit in 2010-11? Here are four candidates:
Phoenix Suns
It seems like every year, we're all waiting for this to happen. But every year
Steve Nash
defies the laws of aging, has a terrific season and keeps the Suns moving. But there was a constant variable in all of those seasons the Suns saw success -
Amar'e Stoudemire
. For the first time in eight years the Suns will be without Stoudemire, a player that worked perfectly in Phoenix's up-tempo style and Nash's pick-and-roll ability. Now in 2005 the Suns were without Stoudemire who underwent microfracture surgery, but that was with Nash still in his prime and with a ton more depth.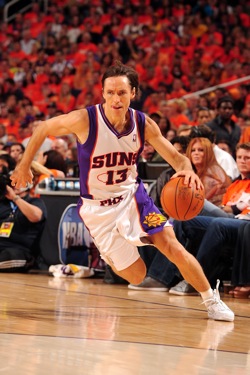 This time, the Suns replace Stoudemire with
Channing Frye
and Hakim Warrick, two capable players but obviously not to the caliber of Amar'e. If Phoenix intends to stay in the top tier of the West, a player with have to elevate his game. Maybe that's youngster
Earl Clark
. Maybe Robin Lopez continues his improvement. Maybe Warrick becomes the new Amar'e playing alongside Nash.
Hedo Turkoglu
is a new addition, but judging by his play in Toronto last year, he might not be a big help.
Phoenix will still be a good team and a likely playoff team, but with Nash's age and the downgrade in talent on the roster, the Suns might be looking at the beginning of the end.
Cleveland Cavaliers
Didn't they lose someone? Oh right, Delonte West and
Shaquille O'Neal
. Talk about starting over, you guys. Oh yeah, and that other guy too.
The Cavs are at an impasse they didn't see coming. Others might have seen the writing on the wall with LeBron, but The King's departure was a brick in the face to Cleveland fans everywhere. Any time you lose the face of your team, the face of the league and the best player on the planet, you're rebuilding by default.
The Cavs do have some quality players still, because instead of laying dynamite around the roster, the Cavs have decided to try and strive for mediocrity. And in the East, most of the time average is enough to get to the postseason. But this is a team that had won 60 games the last two seasons. The Cavs lost their star, their coach and their general manager. It's a time to start over for the Cavs and
Anthony Parker
and
Joey Graham
probably aren't going be the pieces that maintain the regular season excellence in Cleveland.
Toronto Raptors
Bryan Colangelo tried. He tried to shuffle things around and put together a respectable roster after the loss of
Chris Bosh
that could possibly stay where they were. But let's face it: Even with Bosh, the Raptors weren't exactly in the upper echelon of the East. With a failed trade for
Tyson Chandler
that would've moved
Jose Calderon
and a mishap in trying to sign
Matt Barnes
left the Raptors with a young roster that will struggle to win games.
Colangelo did do himself a favor by moving Turkoglu's contract, but he also gave
Amir Johnson
too much money and trading
Marco Belinelli
for
Julian Wright
doesn't do much for anyone. Toronto may be in the basement in the East and while it's not like they're falling from the top of the East, the Raptors are likely headed for a drop.
Denver Nuggets
The Nuggets aren't actually on this list... yet. But they will be, if (or when) they lose
Carmelo Anthony
. Reality is, any time you trade a superstar, you never get an equal return. I mean, how could you? Who's going to give back a top 5-8 player in the league or three players that equal Anthony's ability?
If Denver hangs on to Anthony for the season, it'll be business as usual for the Nuggets. They'll be good, they'll make the playoffs and will have a chance to advance a few rounds. But if they lose 'Melo, then it'll likely be a trip into mediocrity for Denver. The team hasn't enough talent in Nene,
Chauncey Billups
and
Kenyon Martin
to stay afloat, but in the West where it's win 50 or stay home the last two weeks of April, it would be tough for the Nuggets to do that. And of course reports are that
J.R. Smith
might be moving out as well. The Nuggets are facing a potential restructure, and while the roster is in tip-top shape now, it likely won't be come November.