The Phoenix Suns are the latest team to join trade rumors involving the Orlando Magic and Washington Wizards on a possible Gilbert Arenas deal.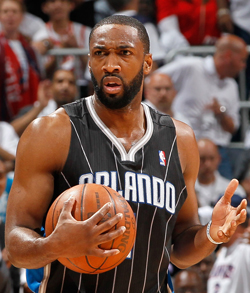 Posted by Ben Golliver.
We've been carefully tracking the Gilbert Arenas trade rumors for months. On Friday, whispers that
began back in October
and got
warm in December
intensified, when
it was reported
that the Orlando Magic and Washington Wizards were zeroing in on a deal for the former Agent Zero. As the night progressed, Magic big man
Marcin Gortat
, Magic wing
Vince Carter
and forward
Rashard Lewis
both
found their names in various rumors
, although the final framework of the deal that would reunite Arenas with a mentor, Magic GM Otis Smith, hasn't yet emerged, although reports continue that a deal is close.
Ken Berger of CBSSports.com reports
that a third team could wind up crashing the Washington / Orlando party.
League sources say a third team is involved, with the Suns possibly contributing Hedo Turkoglu to the equation. The Magic, trying to make a bold move to close the gap with Boston and Miami, would wind up with Arenas and Turkoglu, who would return to the team he led to the NBA Finals before a frustrating year in Toronto. Magic center Marcin Gortat is "100 percent involved," though it's unclear whether the Magic would be sending out Rashard Lewis, Vince Carter, or both.
One of the guarantees coming into this season is that Phoenix, run by cost-conscious, impulsive owner Robert Sarver, would be active prior to the trade deadline if they didn't start hot. By handing out relatively big contracts to the likes of
Josh Childress
and
Hakim Warrick
, trading for the massively-overpaid Turkoglu, and re-signing
Jared Dudley
, the Suns simply had way, way too much money committed at the same position, making adequate roster and positional balance virtually impossible. The Suns have started 12-13, which is good enough for second place in the terrible Pacific Division, but puts them on the outside of the Western Conference playoff picture looking in. Until more details emerge, it's unclear what Phoenix's role will be, whether it's as a facilitator to make salaries work or as a legitimate partner. Meanwhile, Berger also reports that landing Arenas in Orlando may not be as easy as first thought.
But according to a person familiar with the situation, Smith faces two significant obstacles in bringing Arenas to Orlando. The first is Magic coach Stan Van Gundy, who has told friends he is extremely reluctant to add Arenas to the roster. The second, and even more important impediment, is Orlando ownership, which has serious reservations about absorbing Arenas' contract. Arenas has one more year left than Lewis and two more than Carter -- essentially three more with Carter's partial guarantee in 2013-14. Turkoglu's contract could ease some of that pain, as the Turkish star agreed to accept a reduced guarantee in '13-'14 as part of his trade from Toronto to Phoenix.
In Arenas, Turkoglu and Lewis, you're looking at three of the worst contracts in the entire league, so there's no question it will take some internal selling from management on all sides of this trade to convince their own owners that the grass is greener on the other side. But that doesn't necessarily mean this will fall apart, as all three teams are very motivated sellers. Washington needs to turn the keys over to
John Wall
and start a new chapter. That's a no-brainer, and has been clear since the Wizards drafted Wall with the No. 1 overall pick in the 2010 NBA draft. Orlando needs an aggressive scoring spark on the wing to avoid taking a half-step back this season. Saturday morning, the
Orlando Sentinel quotes Smith
as saying trade talks with the Wizards are at an "8" on a 1-10 level of seriousness.
The Associated Press reports
that Smith confirmed that talks are ongoing but also said that "nothing is imminent" with regard to an Arenas trade.
The Sentinel also notes
that Magic brass "would much rather have" Denver
Nuggets
all star forward
Carmelo Anthony
or New Orleans
Hornets
all star point guard
Chris Paul
, but Anthony appears headed elsewhere and Paul hasn't seen his name in serious trade rumors since the season started. Phoenix, as explained above, could use better roster balance, as coach Alvin Gentry has struggled with setting his bench rotation all season, in part because of so many relatively similar pieces on the wing. Given Smith's comment about the seriousness of these talks, surely there will be more developments as the weekend continues.