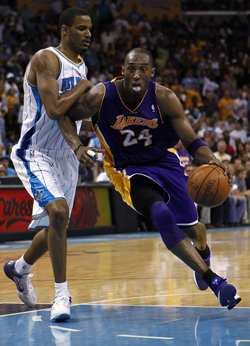 Posted by Royce Young
The whole strategy for owners in cancelling games is to make players miss paychecks. Maybe them miss out on collecting their large lump sums of money and ideally, you force them into taking a less than attractive deal.
That's the plan, at least.
The question is, how much will players be losing exactly by missing paychecks? We already know it's something like $80 million collectively per week, but who's taking the hit in their wallet the most?
The Post Game did some crunching
and here are your top 10 losers in this lockout.
10.
Joe Johnson
: $1,387,582.54 per paycheck
9.
Amar'e Stoudemire
: $1,401,361.92 per paycheck
8.
Carmelo Anthony
: $1,423,076.92 per paycheck
7.
Pau Gasol
: $1,439,550 per paycheck
6.
Dirk Nowitzki
: $1,468,682.54 per paycheck
5.
Gilbert Arenas
: $1,482,254.46 per paycheck
4.
Kevin Garnett
: $1,630,769.23 per paycheck
3.
Tim Duncan
$1,638,461.54 per paycheck
2.
Rashard Lewis
: $1,704,000 per paycheck
1.
Kobe Bryant
: $1,941,846.15 per paycheck
How did they arrive at those numbers. Here's the explanation:
Methodology: During the 1998-99 lockout, players lost pay based upon games missed. So, if a player missed one game due to the lockout, it would have cost him 1/82nd of his salary. However, since all players have slightly different schedules, we calculated pay on a paycheck basis.

Players are only paid during the regular season and receive checks bi-weekly for work that occurs the previous two weeks. The 2011-12 NBA season was supposed to have started on Nov. 1 and end on April 18. During the course of the season, that can be divided into 13 bi-weekly paychecks. The numbers were calculated by equally dividing each player's 2011-12 salary 13 times to find what they earn every two weeks during the season.
It shouldn't surprise you that Kobe is losing the most per paycheck in a lockout as he's the highest paid player in the league And the crazy thing about Kobe losing nearly $2 million per paycheck missed during the lockout is that he can recover that by playing one little exhibition game in Italy.
But it's always strange to see Rashard Lewis' name atop any of these type of lists. Yeah, I know he signed a massively ridiculous six-year $118 million deal a few years ago, but the fact he's second on this list blows the mind.
I know it's not big news to know that NBA players are going to lose a lot of money by missing paychecks, but it kind of stunned me just how much when broken down like this. I mean, think about two months missed for someone like Dirk. That's a whole lot of cash. Everyone says the players that will end up folding are the mid-level guys that make substantially less. I'm sure they will. But if I'm Tim Duncan or Kevin Garnett, I'm not exactly excited about losing $1.5 million or so every couple weeks.