The new-look Knicks have had supreme highs and desperate lows. So what's the story with the Knicks' inconsistency?
Posted by Matt Moore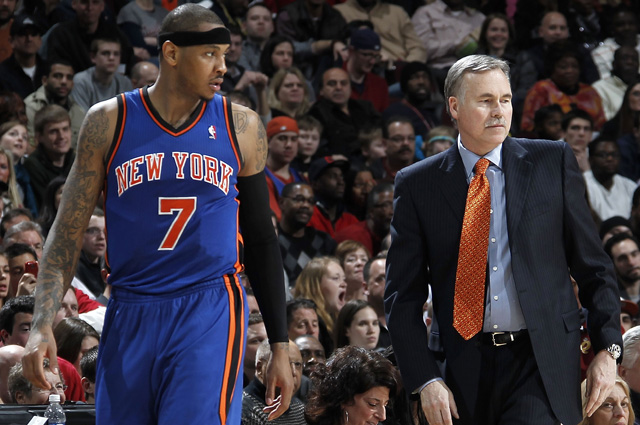 There is no more valued word among NBA coaches than "consistency." Consistency is the mark of greatness, the key to success, the building block of progress, and the thing that is most elusive for teams during a season. Getting players to exert the same level of effort, focus, understanding, and execution across any stretch during 82 games is nearly impossible, made all the more difficult by injury, youth, chemistry, suspension, and ego. So how do you work to get consistency from a team? You practice, endeavor, train, bond, and most of all, try and bring in players that will provide that kind of effort and production night in and night out. The easiest way to do that is to have star players. Veterans who know how to execute, and can duplicate that performance at a high level on a Thursday night, nationally televised game against a Western Conference title contender and on a Tuesday night League-Pass-er against a lottery squad. Star players in the NBA are more than just players capable of incredible highlight reels and singular stats-stuffed box scores. They bring it each and every night. Superstars are how you make your team more consistent.
So why are the new-look Knicks so inconsistent?
Since trading for
Carmelo Anthony
, the Knicks are 6-6. The
Nuggets
are 8-2, but that's a whole other story. It would be one thing if the Knicks were beating middle-of-the-road teams and losing to elite squads, essentially playing to their potential and role this season. But that's not what's occurring. The Knicks have wins over playoff teams in New Orleans, Memphis, Atlanta, and a huge win over Miami. They have losses to Dallas and Orlando, understandable, since those teams are better overall than the Knicks. But they also have two mortifying losses to the Cleveland
Cavaliers
and one to the currently bottoming-out
Pacers
, who they face in a back-to-back rematch Tuesday night. (Update: The Knicks fell to the Pacers again, on a
Danny Granger
dagger to
lose the back-to-back set
.) In short, the Knicks are all over the place.
The Knicks traded in a lot of assets that had been playing well together to get Carmelo, banking on the long-term and short-term payoff to outweigh the cost of sending four starters to Denver in return for one starter and a superstar. What's interesting is how the team has shifted since the trade. The Knicks had been averaging a 107.7 offensive efficiency and a 107.2 defensive efficiency before the trade. Offensively, they've improved as you would think they would, jumping to a 110.7 offensive efficiency. Defensively, however, they've also taken a hit, jumping to 108.7. Sounds about right. But the bigger issue is not the overall results, which are favorable, still. This team was never going to be a defensive ironmonger under D'Antoni. His system is geared to send potential rebounders springing for the break. That, plus the kind of light-footed bigs needed to make the system function results in a high number of offensive rebounds allowed, which provide more opportunities to score, and with most of the personnel geared for offense, that means they're often not defensively brilliant and the result is the team giving up a ton of points. But the team is still outscoring the other side on average. So what's the issue?
The issue is that they manage to pour it on against teams like the
Heat
who are defensively brilliant while holding the Triad to an 88.7 offensive efficiency. That's stunningly good. Then three games later they give up a 126 defensive efficiency to the Cavaliers, who couldn't hit water if
LeBron James
walked back in the door and personally towed them to water. They drop 107 points (118 offensive efficiency) on the
Hornets
, then turn around and produce just 93 (98.9 efficiency) against the Pacers. The Knicks are going up and down and there's no rhyme or reason to it. You can attribute part of the random nature of the results to
Chauncey Billups
' absence, but not enough. The Knicks are simply all over the place. Furthermore, the results aren't really tied to Melo's performance, either.
Anthony scored just 14 on 6-18 shooting against the
Hawks
and they won easily. He pours in 29 on 10-16 shooting against the Cavaliers and they lose. There is one interesting corollary. In the 12 games Melo has been with the Knicks, they have never won when Anthony has posted a negative +/- mark, and never lost with a positive +/-. It seems obvious, but it does show that Anthony is in some way relevant to the Knicks' nightly performance.
So how does D'Antoni solve this rollercoaster puzzle? In short, he can't. James Dolan (and Isiah Thomas) cut the roster he put together with Donnie Walsh off at the knees in order to screw on the robotic Melo cyborg suit he's got now. Chemistry doesn't just come together, it takes time. And consistency is an even further extension of that. D'Antoni's not going to all of a sudden be able to fix the problems the Knicks are having because the problems aren't obvious. They're complicated and intertwined in effort, hot and cold shooting nights, opponent matchups, and the ever elusive idea of chemistry and how players play and live together. That takes time, and work, in a situation where the Knicks have no time to work on such issues. Either these things will fix themselves naturally over the final month of the season, or you're just going to have to flip a coin as to which side of the Knicks we see in the first round.
(Efficiency stats
courtesy of HoopData
.)