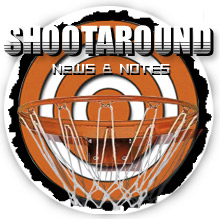 Posted by Royce Young
Michael Lee of The Washington Post: "For a moment, I thought about putting on a plastic poncho and borrowing a pair of Kirk Hinrich's goggles for fear of getting soaked with a champagne shower. But after the Wizards finally won their first road game of the season -- and ended a 26-game road losing streak dating back to April 9 of last season -- the locker room floor didn't need any protective covering. It was filled with relief, laughter -- and jokes about needing to have a championship-caliber celebration."
This quote is kind of rough for O.J. Mayo: "Even when Zach Randolph got hurt and came back at the beginning of the year it was a heck of an adjustment for the team," Hollins told The Commercial-Appeal . "The team's identity had changed just that quickly because Zach wasn't the guy down in the post getting the ball and doing his thing."
Darnell Mayberry of The Oklahoman: "The Thunder fell to 2-7 in Sunday games following its 100-94 loss at Golden State. The only other day of the week that Oklahoma City has a losing record is Tuesday, a day in which the Thunder is 1-2. 'Maybe we're not meant to play on Sundays,' Scott Brooks said."