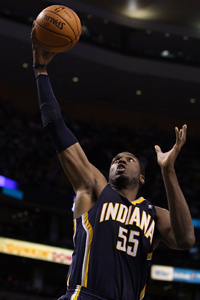 Roy Hibbert wants to return to the Pacers next year, but isn't holding his breath for a extension.
(Getty Images)
By Matt Moore
Roy Hibbert's having a career year so far, averaging 14 and 10, with nearly two blocks per game, shooting 53 percent and racking up a 20.7 PER. In a league short on legit centers, that makes him as valuable as can be. But Hibbert, who enters the critical restricted-free-agency-coming-off-a
-rookie-deal this summer, doesn't think he's getting an extension offer before next week's deadline. That said, Hibbert doesn't think he'll be leaving Indiana in free agency. Not if he has anything to say about it.
From the
Indianapolis Star
:
"My personal gut feeling is that we'll do something in the summer, because the max guys are the ones that get extensions right away," Hibbert said. "I'm just going to follow my agent's lead."

Hibbert, who is having his best season, will become a restricted free agent, which means the Pacers can match any offer made to him this summer if the deadline passes.

Hibbert, however, said no one should dwell on his becoming a free agent.

He prefers to remain a Pacer.

"I have every intention of staying," Hibbert said. "Indiana is my home."
via
Hibbert eager to stay | The Indianapolis Star | indystar.com
.
Hibbert started off hot last year, too, before fading, then settling in by season's end when the Pacers made their playoff run. So there's reason to be skeptical. But the truth is that all the signs are there. Hibbert is coachable, talented, tall, has a good hook shot, gives good effort, by all accounts a likeable guy, and has solid numbers in terms of projections. In a league where every young player is challenged and questioned with his ability to put it all together, especially if he doesn't play for a large market, Hibbert gives every indication that his struggles in the past have been nothing more than acceptable growing pains.
Indiana would do well to keep their paws on him. Talented, even capable starting centers don't grow on tall trees in this league.