Posted by
Ben Golliver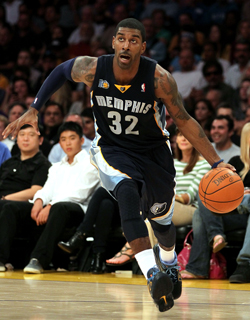 This man lives on the trade block.
Yahoo Sports reports
that Memphis
Grizzlies
guard
O.J. Mayo
has had his name come up in recent trade talks with the New Jersey
Nets
.
Memphis and New Jersey have been engaged in trade talks centered on guard O.J. Mayo, but a deal appears unlikely. Nets-Grizzlies talks included scenarios for Anthony Morrow and a pick for O.J. Mayo, but discussions have lost traction.
Mayo, 24, is a 6-foot-4 guard with a scorer's mentality and solid two-way, energetic play. His statistical production has taken a hit during his four years in Memphis, as he's been shifted to a reserve role behind starting guards
Mike Conley
and
Tony Allen
, and he's currently averaging 10.1 points, 3.3 rebounds and 1.8 assists in 24.4 minutes per game this seaon.
Morrow, 26, is more of a one-dimensional player, known for his ability to shoot from distance and score in bunches. So far during 2011-2012, his second season with New Jersey, Morrow is averaging 12.4 points, 2.8 rebounds and 1.1 assists per game in 25.4 minutes. He's been used both as a reserve and, most recently, as a starter by Nets coach Avery Johnson.
Mayo is in the final year of his current contract and seems a very, very unlikely long-term fit in Memphis, a team that has already committed major dollars to
Zach Randolph
,
Rudy Gay
,
Marc Gasol
and Conley. Has name has repeatedly come up in tralk talks, including proposals involving the Indiana
Pacers
-- in a
failed swap
for forward
Josh McRoberts
, who is now with the Los Angeles
Lakers
-- and the Golden State
Warriors
in
a rumored swap
for guard
Monta Ellis
. The Grizzlies also have promising second round pick
Josh Selby
who, despite
a recent marijuana bust
, seems capable of providing a backcourt scoring pop off the bench at a fraction of Mayo's price.
But, really, Mayo trade talks are not about what he does on the court. During his time in Memphis, he's been
suspended for failing a drug test
and gotten into a
well-publicized fight
with Allen on the team plane. He's needed a change of scenery for awhile now.
Is New Jersey, currently 2-9 and in the basement of the Atlantic Division, that place? They can certainly use his talent and would like likely start him alongside All-Star
Deron Williams
in what would be a fairly dynamic and interchangeable backcourt. He represents an upgrade from Mayo and this talent-deficient bunch can use any upgrade it can find. There's also an urgency at play in the Garden State, as Williams wants to win now and his future is very much up in the air.
One question here: If you're Memphis, do you prefer simply to unload Mayo to a team with cap space so you don't have to receive salary in return? Similarly, do you prefer to let his contract expire at the end of this season to give yourself added flexibility next summer? Given that we're roughly two months from the trade deadline, we'll know soon enough. One thing is for sure: this won't be the last time we'll hear Mayo's name in rumors over the next eight weeks.