Posted by Royce Young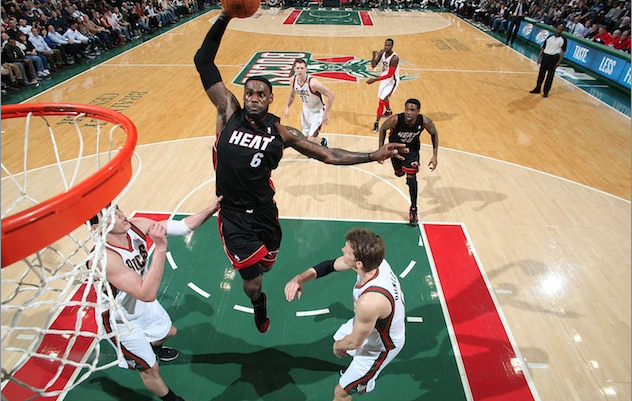 LeBron had the kind of night where you mention him with Ewing, Barkley and Duncan.
(Getty Images)
Each night, Eye on Basketball brings you what you need to know about the games of the NBA. From great performances to terrible clock management the report card evaluates and eviscerates the good, the bad, and the ugly from the night that was.

| | | |
| --- | --- | --- |
| | LeBron James | In 31 minutes, LeBron basically demolished the Milwaukee Bucks. That's what they get for beating the Heat twice this season, I guess. LeBron went for 35 points on 16-21 shooting with eight rebounds just for fun. As pointed out on Twitter, the only players to do that the last 20 years are Tim Duncan, Alonzo Mourning, Charles Barkley and Patrick Ewing. |
| | Dallas Mavericks | The Mavericks continue to steadily climb the hill as they picked up a very nice win over the Clippers Monday. Dirk scored 22 but on 5-15 shooting. He did close the game especially well, which he tends to do. The Mavs though got a bit of everything from a lot of different parties -- Shawn Marion had 16, Vince Carter 10, Delonte West 10, Brendan Haywood 10. Not that anyone ever wrote the Mavs off, but now they're actually getting our attention again. |
| | Chris Kaman | The big guy started for New Orleans and did his job putting up 27 points and 13 rebounds in a win over Utah. He was deactivated as the Hornets shopped him around so this does two things: Helps the Hornets win because a good player played well and increases his trade value. The Hornets probably prefer losses to help the lottery ball odds, but Kaman playing well is a very good thing for New Orleans. |
| | Kenyon Martin | Martin played his best game with his new team scoring 10 points in 26 minutes while adding four blocks. He's absolutely everything the Clippers need off the bench. He's a big, physical body and if he's in good shape, he'll probably be a 25-30 minute fixture in that rotation. |
| | Dwight Howard | The Magic picked up a nice win over the Wolves, but it certainly wasn't because of Howard. He was in constant foul trouble which limited him to only 11 points and seven rebounds in 28 minutes. And as for being a closer: He scored three points in the fourth on three shots. |
| | Charlotte Bobcats | The Bobcats put up a fight against the 76ers, but as you might've assumed, lost. Why do you assume? Because that makes 15 in a row Charlotte has lost. |
| | Utah Jazz | Maybe the Jazz are coming back down to Earth. Another loss, with this one coming to the dreadful Hornets. Granted, it was the second night of a back-to-back and they won in Memphis the night before, but that's five of seven in the loss column for Utah, with this one being against a terrible team. You can't do that when you're trying to compete for a playoff spot in the West. |