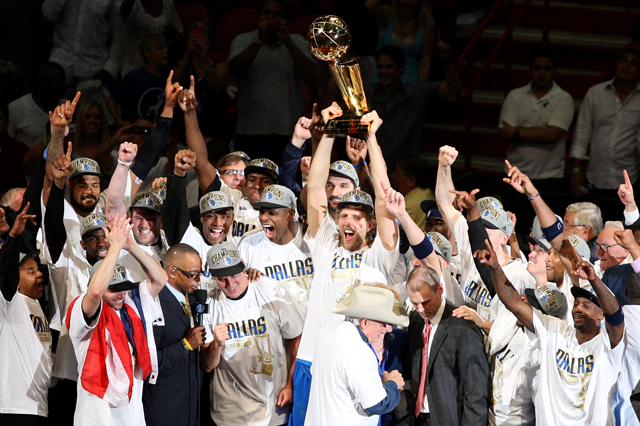 By Matt Moore
As much as everyone outside of the state of Florida may have wanted to enjoy watching the
Heat
as the
Mavericks
get their championship rings, it's not to be. Those interested in schadenfreude will have to settle for the Miami 3 watching the Mavericks' first championship banner be raised.
WFAA in Dallas reports that Mark Cuban has informed them the Christmas Day season opener against the Heat
will not be ring ceremony night
for the Mavericks. It's customary for the first home game of the season to be ring ceremony night,
but Cuban says that due to so many people likely having made other plans
for Christmas in light of the ongoing lockout, he didn't want to leave them out.
However, the banner will be raised to the rafters so fans can celebrate their championship team on their home floor for the first time. The Heat of course lost to the Mavericks in six games in last season's Finals.
The story should be about the Mavericks, but it will, as always, be about the Heat. How will they react watching the banner they were two wins away from obtaining be raised in front of them? Does it spell an omen or serve as motivation? Will it affect how they approach their first game of the season? A loss would leave the Heat 0-2 in season openers under the new Triad after last year's loss to the
Celtics
in Boston.
Either way, it's going to be a fairly brutal process for the Heat to sit and watch the title they nearly won be celebrated on their opponents' home floor. Great drama, just the thing to kick off the season with to start moving past the lockout.