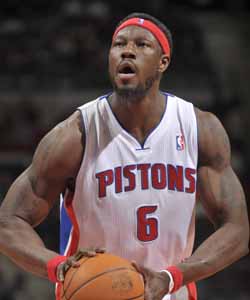 By Matt Moore
From the
Detroit News
:
Detroit Pistons star Ben Wallace pleaded guilty to two misdemeanor charges Tuesday morning stemming from a Sept. 24 drunken driving arrest.

Wallace, 37, faces a Dec. 13 sentencing in Oakland Circuit Court on one count each of operating a vehicle while intoxicated and possessing a firearm while operating a vehicle while intoxicating. Both charges carry a maximum sentence of 93 days in jail.

It was revealed in court Tuesday that the Detroit Piston's blood alcohol level was .14, nearly double the .08 considered intoxicated under Michigan law.
via
Detroit Pistons - NBA | Ben Wallace pleads guilty to misdemeanors in drunken driving arrest | The Detroit News
.
As we discussed
at the time of his arrest
, Wallace, head been pursuing a dream of becoming a lawyer. And then got hit by this. It continuously amazes fans and media how you can get popped for DUI. You have unlimited resources in pursuit of a ride home. Limo. Taxi. Friends. Other ballplayers. Personal pedi-cycle. But then, so do most people, and that doesn't keep the DUI rates in this country from dropping.
It's unlikely Wallace will be sentenced the maximum sentence. Prosecutors already dropped a charge on carrying a concealed weapon. The gun Wallace was carrying in a backpack was registered to his wife.