Posted by
Ben Golliver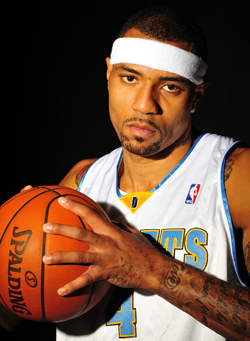 Kenyon Martin is reportedly headed to Lob City.
(Getty Images)
Update
: The Los Angeles
Clippers
officially announced the signing of free agent forward Kenyon Martin on Friday.
"Kenyon is the ultimate competitor and a key acquisition," said Vice President of Basketball Operations Neil Olshey in a press release. "We expect that he will provide additional experience, passion and professionalism, as well as some important depth to our front court."
The Clippers report that Martin is expected to join the team on their current road trip in Orlando and will wear uniform No. 2.
Original Post
: K-Mart is back from China and reportedly ready to open up shop in Lob City.
The Los Angeles Times reports
that free agent forward Kenyon Martin, who played for the Xinjiang Flying Tigers of the Chinese Basketball Association during the lockout, has agreed to a contract with the Los Angeles Clippers.
The Clippers and free-agent forward Kenyon Martin have agreed on a mini-midlevel deal that will be finalized as soon as Martin passes a physical, according to an NBA individual familiar with the negotiations.

Other teams that had been interested in Martin were the Lakers, Miami Heat, San Antonio Spurs, New York Knicks and Atlanta Hawks.
A mini-midlevel contract is worth $2.5 million per year for up to two years. It's a new contract offer under the collective bargaining agreement available to teams who are over the salary cap.
Yahoo Sports confirms
that the Clippers and Martin have reached agreement on a 1-year deal for $2.5 million.
Martin, 34, is an 11-year NBA veteran, spending the last seven seasons with the Denver
Nuggets
. Last season, the No. 1 overall pick in the 2000 NBA Draft averaged 8.6 points and 6.2 rebounds as a starting power forward for the Nuggets.
He brings a no-nonsense, physical style of play and represents a badly-needed addition to the Clippers' thin frontcourt. After the exciting starting duo of All-Star forward
Blake Griffin
and starting center
DeAndre Jordan
, the Clippers' pickings are pretty slim. They've made due with the likes of
Reggie Evans
and
Brian Cook
, but Martin plugs in nicely as a third big man.
Martin's signed with Xinjiang for a reported $3 million
back in September
, in the thick of stalled labor negotiations. It was reportedly the largest deal in Chinese Basketball History. In December, Martin
reached a buyout
with Xinjiang and returned to the United States.
Martin's NBA eligibility has been in question recently. On Thursday,
a report surfaced
that Martin had received clearance from FIBA to return to the NBA prior to the end of the Chinese Basketball Association's season. Later Thursday,
Yahoo Sports reported
that China was pushing back against FIBA regarding the clearance. It's still not yet completely clear when Martin will be available to play for the Clippers, but more details should be known soon.