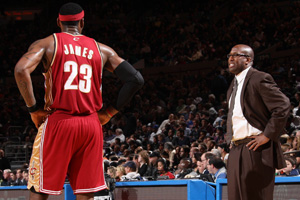 By Matt Moore
Coaches have to put up with a world of grief. Player egos, rookie mistakes, blown coverage, the media, P.R. engagements, travel, family, all of it at the same time. There's a reason they're paid what they are.
Mike Brown has to deal with more than his fair share. He was
LeBron James
'coach in Cleveland and failed to win a title. Everyone has their opinion on whether that was the fault of LeBron, Danny Ferry's general management, or Brown's coaching. And since then there have been a ton of rumors about the reason Brown was fired, the relationship between James and Brown, and how the entire situation was structured, how much leeway James had exactly.
In an interview on Cleveland sports radio, Brown spoke about his relationship with LeBron. They apparently talked after everything went down in the summer of 2010, but haven't spoken much since then. And Brown describes the relationship as "fine." From Sports Radio Interviews:
The perception was that somehow you and LeBron James didn't get along. Talk about your relationship with LeBron James while you were here. What was your relationship after you were let go and LeBron James made his decision? Have you talked since? How is your relationship with him today?

"We have been in contact after I had gotten let go. We had texted each other a few times. We emailed each other a few times. Now we haven't talked in…I don't know six, seven, eight months maybe? We haven't communicate via text or email in awhile, but when I had gotten let go, probably within the next six-to-eight months after that we had been in contact a few times with each other. Our relationship was fine. It was a player/coach relationship probably a little bit more than that, but it was fine. There was not a time at all where he was dismissive of me or he didn't do what I had asked him to do or anything like that. I thought we had a great working relationship.

I thought we had a lot of success. I understand the business. I understand how speculation and rumors float about and it's something as you guys know it is what it is. There's no need for me to fight it. I just let it go and as long as I am okay with the person I'm dealing with? It is kind of similar to here. Everybody was saying that Kobe [Bryant] has not approved of me or whatever. You hearing all this type of speculation. People don't know Kobe and I? We had been in contact quite a bit before we even met face-to-face. We had been in contact via text and via phone, so he even asked me if he had to come out and say something publicly? I told him no. I said: 'Hey I know I am good with you and you are good with me and that's all I need.' People can speculate because it is part of the business and I accept it."
via
Sports Radio Interviews » Blog Archive » Mike Brown doesn't fault Dan Gilbert for letting him go in Cleveland, proclaims his relationship with LeBron James is 'fine.'
.
Brown's not going to say anything if his relationship was soured with Lebron, and given James' actions and general demeanor, it's difficult to see him ever having a strong relationship with a coach.
But Brown clearly wants to move past it. He's with L.A. now, they're winning, and he does have the experience to handle the situation with
Kobe Bryant
as well as anyone outside of Phil Jackson. Brown's constantly under heavy shadows. LeBron James, Phil Jackson, Kobe Bryant. But as time goes on, at least he can move away from Cleveland what has turned out to be an absolute disaster for all involved.
We like to think that all sports relationships are polar. They hate each other or they love each other. They got along great and had a close relationship or they were completely dysfunctional. But like most relationships in life, things are more complicated. It's not black and white, and it's not easy.
Maybe, after all that, "fine" is as good as it's going to get.