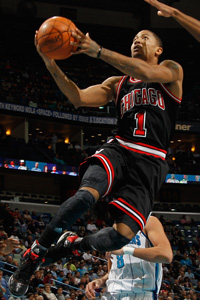 Derrick Rose is out with back spasms, but it turns out it's been a recurring issue.
(Getty Images)
By Matt Moore
The fact that
Derrick Rose
(back) missed Sunday's game against the
Celtics
normally wouldn't raise red flags -- until it was reported that he will see a back specialist Monday and has been experiencing pain in his back for some time. That raises the following questions:
--Why are we just finding out Derrick Rose has been dealing with back spasms for a week?
--Why are the
Bulls
, who are quite secretive about injuries, burning Rose and
Luol Deng
at both ends through injuries?
--What happens if coach Tom Thibodeau, notorious for too many minutes on key personnel, pushes them too far -- particularly in a condensed season?
We start with this from the
Chicago Tribune
in regards to when exactly this back issue popped up for Rose:
"It's been hurting the whole trip," Rose said. "I just played through it. It tended to get worse after every game. I was really worried about it. But I'm trying to stay positive. I don't know what the diagnosis is. I just know my back is not right."

Rose said he doesn't know what prompted the pain or exactly when it started. He was seen getting stretched on the sideline during stoppages of play as far back as the second game of the trip, on Jan. 30 in Washington.

Rose played spectacularly at New York and Milwaukee, skipped the second half of the Feb. 6 game in New Jersey, struggled through 22 minutes on Wednesday in New Orleans and sat on Friday in Charlotte.

"It just came from out of nowhere," Rose said. "That's the scary thing about it. ... I could barely walk (after New Orleans). It's killing me not being able to play, especially this game, or when I do play my minutes are definitely down. Hopefully, I'll get treatments and it calms down. If not, I'll take my time."
via
Chicago Bulls: Derrick Rose will see back specialist Monday - chicagotribune.com
.
Wait, so Rose has had this issue for a few weeks and has been playing on it?
OK, so not so surprising. NBA players are always dealing with a variety of ailments. Players play through pain on a regular basis and if they were held out because of every bit of tightness or discomfort they would never play. This season measn it's worse than usual.
But if Rose is different. He's already dealt with multiple issues this year, most recently an ankle sprain that held him out multiple games. The account given by Rose indicates that he had a problem, played through it, it got worse, played through it, it got worse, and he played through it.
Bulls' head coach Tom Thibodeau is notorious for playing his guys too many minutes, with Luol Deng the most extreme example, logging 35-plus minutes even in blowouts. There have been questions about whether Thibodeau is risking damaging his players and running them down with a long and grueling playoff run still yet to go. You would think that with Rose being the MVP, making up the vast majority of the offense, its best and most important player, and the key to any championship run the Bulls may have, that there would be an emphasis on resting him to keep him fresh as to avoid running him down. Instead, the Bulls played him against three lottery/borderline lottery teams when they already have a multiple-game lead on the
Heat
for the top spot in the East and even if they were to hold Rose out a month, could very well still be in the top three. Rose could sit the rest of the season and still be a top-five seed.
The Bulls are pretty secretive about injuries. Nearly everything is "day-to-day, gametime decision." Luol Deng tore a ligament in his wrist. Day-to-day, gametime decision. Derrick Rose can't move or breathe. Day-to-day, gametime decision. And much like the Patriots in football, it works. It keeps things hidden from the opponent. But versus the NFL, with limited media availability, the NBA plays nightly, which means these situations seem to pop up constantly.
To be clear, it's not that the Bulls are forcing him out there, nor are they being irresponsible. Rose and Deng have both played well on their injuries. They know how they feel. They know if they can play. But there's also a heightened sense of responsibility to one another the Bulls possess and it seems to border on the pathological. Guys play through pain all the time, but this season has to be about thinking long-term. You can't survive in this schedule with an injury, and the results are piling up on the Bulls.
Hopefully the specialist discovers nothing of note, and Rose is able to return to the floor. But questions about what cost the Bulls are putting into their regular season record at the cost of their long-term durability will persist.