Posted by
Ben Golliver
.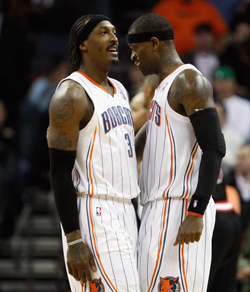 Trade my friend? OK, cool. I'll just throw in the towel.
That was the attitude adopted last season by then Charlotte
Bobcats
forward
Stephen Jackson
. According to Jackson.
Now with the Milwaukee
Bucks
, Jackson
admitted to Charlotte.com
that he mailed in the final 25 games of the season after the Bobcats traded forward
Gerald Wallace
to the Portland
Trail Blazers
for draft picks and expiring contracts.
"When Gerald left, I really left,'' Jackson said at morning shootaround at Time Warner Cable Arena.

"Considering what we did (getting to) the playoffs, and then all those changes. To take Gerald away really took a lot out of me. I still was trying to do my job as best I can, but it was a lot harder. When they got rid of Gerald, that let me know they didn't want to win. I didn't want to be part of a place like that.''
The Bobcats were 25-32 at the time of the trade and 9-16 after the trade deadline move that brought over injured center
Joel Przybilla
and second-year forward
Dante Cunningham
from Portland.
Keep in mind, this is the same Jackson who told Milwaukee media less than three weeks ago that there is nothing that can stop him from competing, not even a gunshot. Bucksketball.com
with the quotes
.
"If guys come in here not focused on a championship, just making the playoffs, we need to trade them. We need to be talking about championship and nothin' else. You can't limit yourself to just playoffs. Who wants to do that? Playoffs is not really an achievement to me. Anybody can get to the playoffs."

"If I'm shot, I'ma get stitched and play the next game. I got hit by a car and played two days later."
Jackson also claimed not to know that there was a lockout because he was attending to his rap career.
"Was there a lockout? I don't know, I wasn't even watching the news, I wasn't affected by the lockout, I don't have money problems. Yeah I wasn't playing basketball, but I can't control that. I was doing my music stuff at the time."
The polite way to react to these statements is to say that what you see is what you get with Jackson. No minced words or trite comments, that's for sure.
Jackson was paid $8.5 million for the 2010-2011 season and was designated a team captain, so his honesty curries no favor. Without question, the Wallace trade was a move for the future and a signal that owner Michael Jordan was headed in a different direction. It's reasonable that Jackson took the news harder than anyone else in the locker room. But he still cashed the game checks and he still donned the uniform. Acknowledging that he checked out for nearly two months of an NBA season is a slap in the face to Charlotte's fans, whether he realizes that or not.
The good news: there's absolutely no second-guessing Bobcats new GM Rich Cho, who shipped Jackson to the Bucks on the night of the 2011 NBA Draft. Charlotte is in store for a burn-it-down rebuild that could take years before the team is in contention for the playoffs again. If Jackson couldn't handle two months without Wallace, imagine how the next two seasons would have played out.
He's your problem now, Milwaukee.