Allen Iverson was reportedly set to retire from his Turkish basketball team after suffering an injury, but his manager says he will return to play for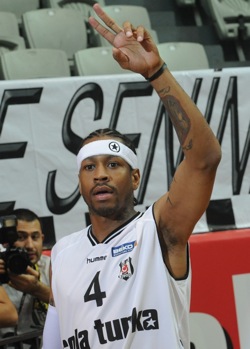 Turkish club Besiktas. Posted by Ben Golliver.
Early Wednesday,
we noted
reports that former NBA All-Star Allen Iverson was ready to retire from professional basketball after suffering an ankle injury while playing for Turkish club Besiktas.
Later Wednesday,
the Associated Press reported
that the retirement talk is a bit premature, as Iverson's manager, Gary Moore, said he "totally disputes" the retirement reports and said Iverson hopes to return in time to play for Besiktas during the playoffs.
Moore also said Iverson is in "tremendous agony" because of a lesion on his right leg and that it will require further testing and surgery.
"It has to be removed and tested to see if it's benign or not," Moore said by phone. "Once that's removed, Allen is going to look to rehabilitate his leg because the doctors tell him he'll be out four to six weeks, He's hoping to be able to play in the playoffs."
When Iverson first announced he was planning to play professionally in Turkey, back in October, we
questioned his resolve to play overseas
. Since then, it's been a wild ride for Iverson, as he was
mobbed at an airport
,
cheered at a soccer match
and
lost in his debut performance
. Nevertheless, Iverson stuck with it, averaging 14.3 points and 4.7 assists in seven appearances for Besiktas
during league play
.
There have also been rumors of financial problems for Iverson. He has denied that money is an issue, but retiring would likely mean forfeiting the remaining dollars on his 2-year, $4 million contract. The smart financial decision for Iverson is to reserve any judgment regarding his playing future until after whatever surgery or procedures he needs are completed. At that point, he'll be able to better assess both his ability and desire to continue playing.