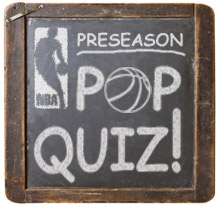 Posted by Royce Young
Fall is here, hear the yell, back to school, ring the bell
... The NBA season is right around the corner, and NBA training camp starts in just a few short weeks. To get you ready for the NBA season, we've put together 25 pop quizzes. Pencils ready? We continue our
Pop Quizzes
with this question...
Who will be lifting the Maurice Podoloff Trophy next season?
No, I'm not going to spend the first three paragraphs explaining my definition of "Most Valuable Player." I'm not going to go on about if I think it's about the player that means the most to his team or if it's the guy that was the most outstanding through the season.
Because truly, it doesn't really matter. Everyone likes the MVP to be a bit ambiguous, leaving the voting criteria up for interpretation. It makes for better results in the end, I suppose. Or at least more arguments.
But it also means that this season won't be much different than the rest in terms of who the main faces in the race will be. You're not going to have a guy like
Gerald Wallace
that plays bulldog defense and leads his team in rebounds, blocks and scoring all from the small forward position. His value to the
Bobcats
last season can't really be quantified, but he's definitely not the traditional MVP type of player. He just has no chance.
Not that there's anything wrong with that. So in the end, you'll have the same cast of characters.
Kobe Bryant
.
LeBron James
. Dwyane Wade.
Dwight Howard
. And on. Oh, and one more guy -
Kevin Durant
.
Most don't realize that Durant was actually MVP runner-up last season. Now LeBron ran away with the award in a vote that wasn't close, but still, 21-year-old Kevin Durant was the runner-up. And he's my favorite to win it this season.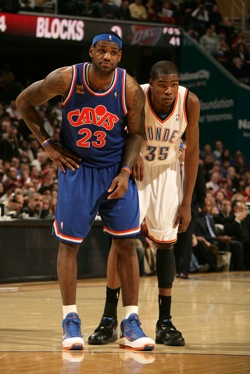 Why Durant? Because while LeBron is splitting not only the spotlight with Wade in South Beach, he'll also be splitting shots. He'll be splitting assists. He'll be splitting time with the ball. And most importantly, he'll be splitting big moments. To be an MVP, you need to
own
your team. You need to be The Man. And while most saw LeBron as the unstoppable MVP force that might win 10 straight last season, now he might not really even be in the discussion. And some think it was selfish that LeBron went to Miami.
There is the chance LeBron does something otherworldly though. I mean, he still is LeBron, an otherwordly basketball talent. What if he averages a triple-double? At that point, doesn't he have to be anointed? He's likely going to be on a team with one of the best records, plus add huge stats and something that hasn't been done in 40 years? You've got to award that. Even if he's the media devil right now.
And of course, don't forget the other usual suspects. Kobe will have numbers, his team will be good and he has everyone's attention. But as he ages, the less important big numbers have become and he's completely satisfied with 25-28 points per game. Dwight Howard does it all for the
Magic
, but voters have already proven hesitant to award such an imperfect player. Wade has the LeBron Problem and while there are other great candidates (
Chris Paul
,
Dirk Nowitzki
,
Carmelo Anthony
,
Rajon Rondo
,
Deron Williams
), one guys has to just stick out.
And Durant already has a leg up on everyone in the most important category: the media. Because of his uneventful but very eventful summer, Durant skyrocketed up popularity charts and had every person with a blog, Twitter or press pass writing about what a swell guy he is. You know, for announcing his "exstension" in a tweet and then for winning gold for his country. He's been cast as the anti-LeBron and in a world where whether it's sports, movies or real life, we like good vs. bad. Durant is Obi-Wan to LeBron's Darth Vader.
And that sort of thing is what could separate him. Durant is going to have the numbers. It's likely he'll finish with a line of something like 31 points per game, eight rebounds, three assists with percentages of 50-40-90. And if his darling
Thunder
squad wins over 50 and is in the Western mix, voters will pretty much hand deliver the award to Durant.
But KD has to deal with something he really hasn't had to yet - expectations. People are writing how he's the savior to basketball, the good guy, the one we should root for the sake of the children - children!!! - Durant should be the role model. But still, he has to perform.
His MVP campaign started with a simple tweet and built up serious steam in Turkey. But if Durant wants to hoist the Maurice Podoloff trophy in front of the Thunder faithful, he's still going to have to play. And there's no doubt he will.