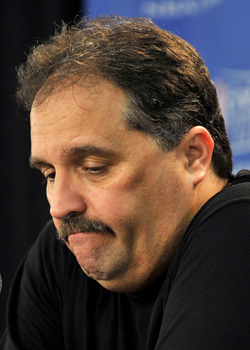 Orlando head coach Stan Van Gundy personally apologized to Magic fans for benching his starters.
Posted by Ben Golliver.
There's a good reason most NBA head coaches are stubborn: indecision can be easily misread as weakness in a competitive field like professional sports. Once you start waffling as a coach, whether it's about strategy, rotations or lineups, players, media and fans alike take it upon themselves to start questioning every last decision or non-decision you make during the course of a game. This fishbowl atmosphere is what makes Orlando Magic head coach Stan Van Gundy's comments after tonight's preseason game between the Magic and the Charlotte
Bobcats
so unexpected, and refreshing. Van Gundy decided to start five bench players in front of the home crowd in Orlando's Amway Arena. The Orlando Sentinel's
Brian Schmitz writes
that
Marcin Gortat
,
J.J. Redick
,
Chris Duhon
,
Ryan Anderson
and
Mickael Pietrus
started over first-stringers like
Dwight Howard
,
Vince Carter
,
Jameer Nelson
,
Rashard Lewis
and
Quentin Richardson
. It's fairly common to rest starters during the preseason, but not all at the same time, of course. Given the risk of injury and the meaningless nature of the exhibition, surely most Magic fans would understand the decision, even if they left disappointed. But that didn't stop Van Gundy from calling Schmitz after the game to pass on his personal apology to Orlando fans for his decision.
"It's been bugging me," he said. "I want to say I'm sorry and I was wrong. I thought I reasoned it through, but I can't justify it. If it was the first game that somebody came out to see, you bring your kids … I'd be upset, too. "I won't do it again." Van Gundy pledged to never bench his entire starting group at home again in the preseason.
Kudos to you, Stan Van Gundy, for seeing the error of your ways and for reaching out to the fans in such a direct and personal manner. But be forewarned. You just set a dangerous precedent.